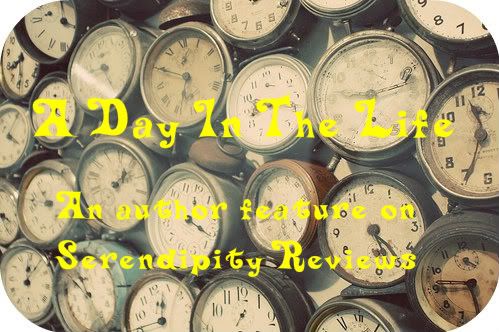 I am extremely excited to have Zoë

Marriott, author of Shadows on The Moon, back on the blog, to tell us about a typical writing day for her as part of her blog tour. Shadows On The Moon is out on the 7th July and is a fantastic book which I fell in love with. My review will be
posted on Monday. ( I feel like I have been waiting for this blog tour all year!)
(First, a disclaimer: this is my life when I'm in the middle of writing or revising a book. My normal life is slightly less sad. Honest. Mostly)

6:30 - Wake up with a strange feeling of being watched. Find cat and dog's eyes riveted on me in a manner that strongly suggests they are contemplating devouring me in my sleep. Check clock. Groan. Pull pillow over head and tell self firmly togo back to sleep.

6:45 - Give up. Get out of bed and fend off my dog's tongue from my legs, then try to stop the cats from jumping onto my pillow. Stumble into the bathroom. Reel back in horror from bathroom mirror. Swiftly leave bathroom. Evict dog and cats from bed and make it, throw on 'Writing Clothes' (baggy t-shirt and either cropped trousers or jogging bottoms).

6:55 - Go downstairs. Put on coffee-maker. Watch every drip with a kind of zombie-like, mesmerised gaze while simultaneously feeding animals and trying not to fall over them as they run around my feet.
7:00 -
Cooooooffffffeeeeeee. Coffffffeeeeeeeeeeeeee. Coffffffffffffffffffffffffffee!
7:05 -
Check e-mails and Twitter. Laugh/groan/tear out hair. Desperately try to catch up on the madness the world has been up to while I was innocently sleeping
7:35 -
Take dog for a long walk. Sometimes I take my iPod and listen to my book's playlist and think deep thoughts. Sometimes I walk along muttering loudly to myself and waving my arms. Sometimes I just throw sticks for the dog. The people who live nearby obviously believe I am a pork-pie short of a picnic and take care to avoid me. If they can't avoid me, they scurry by nervously with thin smiles. Apart from the ones that are even odder than I am. They normally grab me and ramble for ten minutes about the lack of respect in the younger generation as I vainly try to escape.
8:30 -
Get back home. Rub the mud off the dog. Eat breakfast. Clean kitchen.
9:00 -
Head upstairs to writing cave, with my laptop under one arm and a large travel mug of coffee clutched in the other hand. Sometimes I remember to brush my teeth and so on at this stage. Sometimes not. Oops. Mess around on Twitter, post today's blog if it's due, check Facebook updates, YouTube Subscriptions, mess around on Twitter some more and finally, after putting my iPod in the dock and having a few more fortifying gulps of coffee...start work.
9:30 -
Begin by reading and revising what I did the day before. If I'm drafting I'll be working with pencil and paper, leaning a cushion on my fold-out desk to save my back. If I'm revising, I'll either be working on my laptop or marking up sheets of paper with red pen. I always have my notebook propped up somewhere so I can see the notes I made the night before about the coming scenes. Unless it's snowing, my window will be open. Unless it's mid summer, I'll be wearing fingerless gloves, a scarf, a cardigan and fluffy socks. Since I recently cut my hair, I'm contemplating earmuffs too. But if it's warm and cosy I fall asleep, so I have no choice.
10:30 -
Clutch head. Bang head on wall. Clutch bruise. Groan. Check Twitter.
11:30 -
Cry a bit. Check emails.
12:30 -
Maniacal laughter. Check Twitter.
13:30 -
Save work onto flashdrive (because I'm paranoid). Check Twitter and emails again. Leave the writing cave and go foraging for lunch.
14:20 -
Take dog for another walk. More people about at this time of day, so I try to mutter and wave arms less, but sometimes I can't help myself. Sometimes I pretend I'm talking to the dog, but that probably makes it worse - who delivers an impassioned monologue on character arcs to their dog? Me, that's who.
15:15 - Back into the writing cave. Check Twitter. Check Facebook. Since dog has stayed downstairs and the cats are in the garden, talk to my beloved childhood ragdoll Sally. She understands me. Either that or she wants to eat me too.
17:30 - Take dog for another walk. Too tired by this time to talk or wave arms. Dog has to lead me home, since I've forgotten where it was.

19:30 - Check clock, do double-take, realise my legs have gone to sleep and my ears are making ringing noises. Huh. Maybe time to stop. Save work again. Stumble/crawl into bathroom and bless the man or woman who invented power showers. Rouse myself enough to sing some power ballads in his/her honour, but not enough to avoid using shampoo as shower gel by mistake. *Sigh*

20:00 - Look in fridge. Look in freezer. Contemplate eating Branston pickle out of the jar but realise this is too sad for words. Order pizza instead, faithfully promising self that I will cook something healthy tomorrow. Turn on television in time for some variety of cooking programme or crime drama, which I mostly miss because I'm simultaneously reading a book and eating pizza. Assure my family and friends that I'm still alive via phone/Facebook. Promise I will visit my mum/go out with the girls/meet up with my writing group some other day.

23:00 - Give up and go to bed at a reasonable hour. Dammit.

And there you have it. Glamorous, right?
Thank you Zo

ë for sharing your writing day with us. A very insightful and entertaining post. The next stop on the blog tour is at Undercover tomorrow.
**********
Would you like to be in with a chance to win a copy of Shadows On The Moon with a signed book plate? Well, here is your chance. This is a UK entrant only competition and closes on the 7th July. Good Luck.