Really Random Tuesday is a meme created by Suko at Suko's Notebook which is a way to post odds and ends--announcements, musings, quotes, photos--any blogging and book-related things you can think of.
You might have missed this so I thought I would share it with you. For the past two years I have taken part in Carl's RIP challenge which runs from the 1st September through until the 31st October. Unfortunately this year, I have too many books I need to read that don't fit the category, so I am going to stand back and let others join in and make copious notes of the fabulously scary books everyone reads.
If you like your books to scare you through Autumn, then this is the challenge for you. Please click here to find out more.
************
The third trailer for the uber fabulous Daughter of Smoke and Bone has just been released. I have nearly finished reading this book and it is as good as everyone is saying it will be. Out at the end of the month.
**********
Are you often looking for reviews of picture books for children on the Internet but struggle to find any excellent and consistent review sites?
Well I have one for you, that you will love.
Picture Book Shelf has been created by Keris Stainton, Liz De Jager and Vicki Dickinson, all very well known bloggers in the blogging world. Keris is also the author of Jessie Hearts NYC. I trust the views of these ladies completely, so if they say a book is good, then it is good! They have put together a beautiful new blog to share their reviews of all the wonderful picture books they find. Go and have a look for yourself.
***********
I promised to show this fabulous book trailer a few weeks ago and feel terrible that I didn't share it with you. The brilliant and talented Katherine Langrish ( author of West Of The Moon) made this trailer herself for her book 'Dark Angels' which I hope to read soon.
You can find out more details about how she filmed it on her blog 'Seven Miles of Steel Thistles'
Another fabulous trailer that caught my eye was the following one for Between by Jessica Warman. This is due out on the 3rd of October and is published by Egmont. This is described as a Lovely Bones for teens.
I was lucky enough to receive one of these this week!
The official Mortal Instruments box set - squee!
This is officially published on the 6th October, so if you know anyone who hasn't had the pleasure of reading this amazing series, then buy it for them for Christmas.
Also if you have had your head in the sand for the last couple of months, you may have missed that Cassandra Clare is making a one stop only visit to London on the 26th October, where she will be visiting Foyles. This is a ticket only event and I hate to say it is now sold out!
I do have a ticket and I can't wait to meet her!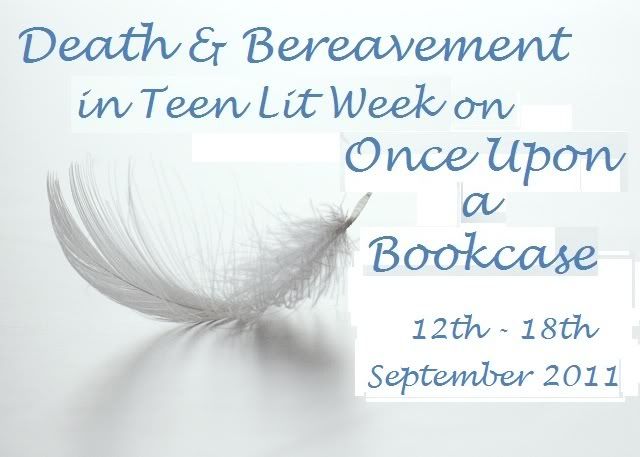 The lovely Jo is back blogging again with us over at Once Upon A Bookcase where she is hosting a special blog feature all week called Death and Bereavement in Teen Lit. Do pop over and read some of the brilliant posts she has written.
That is all my bookish news for this week. Have a really random day!