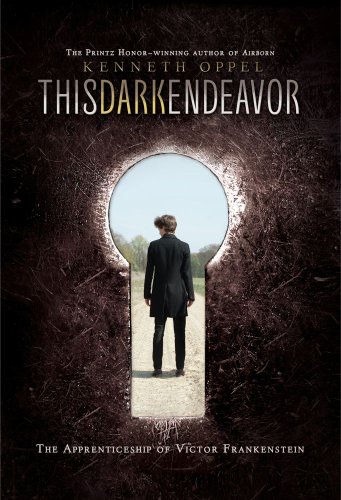 Pages - 298
Published by David Fickling Books in October 2011
We found the monster on a rocky ledge high above the lake. For three days my brother and I had tracked it through the maze of caves to its lair on the mountain's summit. And now we beheld it, curled atop its treasure, its pale fur and scales ablaze with moonlight.
Goodreads Summary
Victor and Konrad are the twin brothers Frankenstein. They are nearly inseparable. Growing up, their lives are filled with imaginary adventures...until the day their adventures turn all too real.

They stumble upon The Dark Library, and secret books of alchemy and ancient remedies are discovered. Father forbids that they ever enter the room again, but this only piques Victor's curiosity more. When Konrad falls gravely ill, Victor is not satisfied with the various doctors his parents have called in to help. He is drawn back to The Dark Library where he uncovers an ancient formula for the Elixir of Life. With their friend Elizabeth, Henry and Victor immediately set out to find assistance from a man who was once known for his alchemical works to help create the formula.

Determination and the unthinkable outcome of losing his brother spur Victor on in the quest for the three ingredients that will save Konrad's life. After scaling the highest trees in the Strumwald, diving into the deepest lake caves, and sacrificing one's own body part, the three fearless friends risk their lives to save another.
This book is the first in a duology that looks at the life of Victor Frankenstein before he created his monster. It shows how he became obsessed with creating the monster in the first place.
This really is a clever book as it has you enticed from the first page. You are convinced that the Frankestein brothers are chasing a monster, but all is not what it seems.
The book reeked of Gothic charm set in the beautiful surroundings of Geneva. I don't think I have ever read a book set in Switzerland before and it did create an urge to travel and explore.
The story is based around twins Konrad and Victor Frankenstein. Now I know in Mary Shelley's Frankestein, Victor never had a twin brother, but that is what these lovely author peeps do, they make things up and what a fabulous addition to the Frankenstein family Konrad makes in this book. Having twins myself, I always find it interesting to read about other sets and this pair were very competitive. They both loved the same woman, Elizabeth, a distant cousin, who had lived with them since childhood. Konrad seems to have the upper hand in the relationship, as Elizabeth has fallen for his charms. Although Victor is not willing to give up without a fight. The love triangle between the three was excellent in its intensity, and a brilliant sub plot to the story.
As I have discovered in many twin relationships, one is more popular, more studious and more capable than the other, causing a lot of resentment from the latter twin. Victor is quite evil in his ruthlessness against his brother, it is only when Konrad falls seriously ill, does he realise how awful his life would be without his twin. He becomes like a tormented animal, in his quest to discover the ingredients for the Elixir of Life. The author made it very easy for us to see the pathway that led to Victor's desperate need to create life in Mary Shelley's Frankenstein.
The Frankenstein family were rather modern for that period of time. They liked to cook for their servants once a week, which I can't imagine was a common pas ttime during that era. Elizabeth is also very modern for those times. She is a gutsy and forthright, and definitely ahead of her peers.
This is a rather dark yet thrilling tale which may distress the reader during certain scenes. The ending was a complete shock to me and left me reeling. I am now desperate to read the next installment to find out what happens next.
I am extremely excited to discover that this will be made into a film. I can't wait to see how the story plays out on screen.