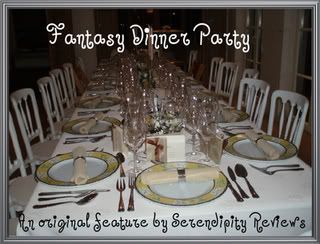 Happy Thanksgiving to my American readers. We thought we would celebrate a little with you over here in Good Old Blighty. One of my bestest blogging buddies and ace personal researcher, Emma from Bookangel Booktopia, has written me a lovely post about who she would invite to her fantasy Thanksgiving dinner party. If you haven't visited Emma's blog, then I strongly suggest that you do as she is a fabulous blogger and a good friend. Over to you Emma.
It always astounds me when I get asked to do guest posts. Why you ask? Well I will tell you, it's because I am ordinary, a run of the mill mum of 3 who happens to be a bit book obsessed. Lucky enough to get to work with that obsession daily and talk about it constantly whether in the school library or on twitter (which by the way is another obsession). So why on earth would I be asked to guest post??
Anyway, I am spamming the guest post position today and it all started with Viv. Viv came up with an amazing idea of hosting Fantasy Dinner Parties where we could invite anyone we wanted, real, fictional, alive or dead. But people we would really like to meet. See she really does come up with the most amazing ideas. So that's where it started the guest list. Then I got asked to do a food post for The Emancipation of Pewter Wolf and me being me decided wow lets tie the 2 together, guest list on Serendipity Reviews and The Menu on The Emancipation of Pewter Wolf. Again me being me and I don't do anything by halves, I have been meaning to do a guest post for the lovely Raimy at Readaraptor for Dream Bookish Destinations, so hey presto, a post about the venue for the Fantasy Dinner Party and why not tie it all into Thanksgiving because I am super thankful to be part of this wonderful blogging community. I did warn you I would be spamming the blogosphere today.
Onto the guest list, again not to do anything by halves – Dinner will be included but the word PARTY is where it really happened for me. I couldn't possible pick a few people so to start I am going to invite all of the fabulous Book Bloggers that have shown me such wonderful support and been a shoulder in the small hours of the night through a very tough year. Alongside all the fabulous publishers that take the time to talk to me, send me such wonderful books and don't mind me squeeing over books like the completely obsessed person I am.
Firstly I will be hanging out with the hostess with the mostest,
Viv
, reminiscing about our teens along with
Keris Stainton
and
Luisa Plaja,
they keep telling me they are the same age but pfftt I don't believe them.
I will be hugging my blogging buddies while meandering around the room trying not to get distracted *oh a squirrel* I would have to invite
Alyxandra Harvey
and
Joss Stirling
just to be in total awe and try to get the details of what's going to happen in The Drakes and The Benedict's respectively. I honestly do not know how these ladies deliver such amazing books time after time. I would love to know what goes on in their heads. Speaking of
Alyxandra Harvey
I would love to invite
Violet from Haunting Violet
to give a reading at the party. How awesome would that be.
Then I got to thinking of other books I had read with amazing characters in for parties. Having just finished
The Serpents Coil
by
Christy Raedeke
the second book (and final) in The Prophecy of Days series I thought inviting
Mr Papers
to the party would be great fun. An origami folding monkey to make carefully crafted, individual origami pieces for the guests. I know what you are thinking SQUEEEE.
Then I got to thinking what other great stuff could be done by the guests for the other guests. I recently finished
The Hollow Series
by
Jessica Verday
(I owe Viv a review of the last book shhh it is in the *virtual* mail) but wouldn't it be brilliant if w also invited
Abbey
to make individual perfumes for the guests. I know HEAVEN.
I could really go on and on but will leave the party full of fabulous Authors, Bloggers, Publishers to be entertained by the origami folding monkey, have their fortunes told by Violet and a perfume made by Abbey.
What a brilliant party even if I do say so myself. *DREAMS*
And still I see no book review! Sigh.
Fabulous dinner party Emma, I am so glad I got invited too and got to sit with such fabulous company. If you would like to create a dinner party post too, then please either send me an email or a tweet.
Happy Thanksgiving everyone.