Oh how I wish I could have made The Witches Are Coming Week longer, but alas I have lots of other blog commitments and I think I might have flailed if I had made it any longer.
There are so many good witch books out there, that I thought I would give a run down of the books I really wanted to read too, but didn't have time to. I have attached the Goodreads summaries in case they might pique your interest.
A Discovery of Witches by Deborah Harkness
Sometimes scholars should be more careful: Youthful researcher Diana Bishop briefly consults an medieval alchemical manuscript; then, after jotting down a few notes, sends it back to its prison in the stacks. Unfortunately for Diana, her quick dabbling has unleashed a long suppressed curse—and now only she can break the spell. Carefully researched, this debut novel will appeal to fans of historical novel infused with strong paranormal elements.
Betwixt by Tara Bray Smith
For three teenagers, dark mystery has always lurked at the corner of the eyes and the edge of sleep. Beautiful Morgan D'Amici wakes in her trailerpark home with dirt and blood under her fingernails. Paintings come alive under Ondine Mason's violet-eyed gaze. Haunted runaway Nix Saint-Michael sees halos of light around people about to die.
At a secret summer rave in the woods, the three teenagers learn of their true, changeling nature and their uncertain, intertwined destinies. Riveting, unflinching, beautiful,
Betwixt
shows a magic as complex and challenging as any ordinary reality.
Book of Shadows by Cate Tiernan
This is the first in the series. There are fifteen books altogether and I own them all!
Morgan thinks witchcraft is laughable when her best friend Bree drags her to a meeting of the Cirrus Coven. But during a cermony led by Cal, Morgan's long-time crush, Morgan feels a shock. Suddenly everything looks brighter, clearer. Morgan doesn't want to get involved with witchcraft-but she feels like witchcraft is choosing her.
Poison Study by Maria V. Snyder
About to be executed for murder, Yelena is offered an extraordinary reprieve. She'll eat the best meals, have rooms in the palace—and risk assassination by anyone trying to kill the Commander of Ixia.
And so Yelena chooses to become a food taster. But the chief of security, leaving nothing to chance, deliberately feeds her Butterfly's Dust—and only by appearing for her daily antidote will she delay an agonizing death from the poison.
As Yelena tries to escape her new dilemma, disasters keep mounting. Rebels plot to seize Ixia and Yelena develops magical powers she can't control. Her life is threatened again and choices must be made. But this time the outcomes aren't so clear…
Once A Witch by Carolyn MacCullough
Tamsin Greene comes from a long line of witches, and she was supposed to be one of the most Talented among them. But Tamsin's magic never showed up. Now seventeen, Tamsin attends boarding school in Manhattan, far from her family. But when a handsome young professor mistakes her for her very Talented sister, Tamsin agrees to find a lost family heirloom for him. The search—and the stranger—will prove to be more sinister than they first appeared, ultimately sending Tamsin on a treasure hunt through time that will unlock the secret of her true identity, unearth the sins of her family, and unleash a power so vengeful that it could destroy them all. This is a spellbinding display of storytelling that will exhilarate, enthrall, and thoroughly enchant.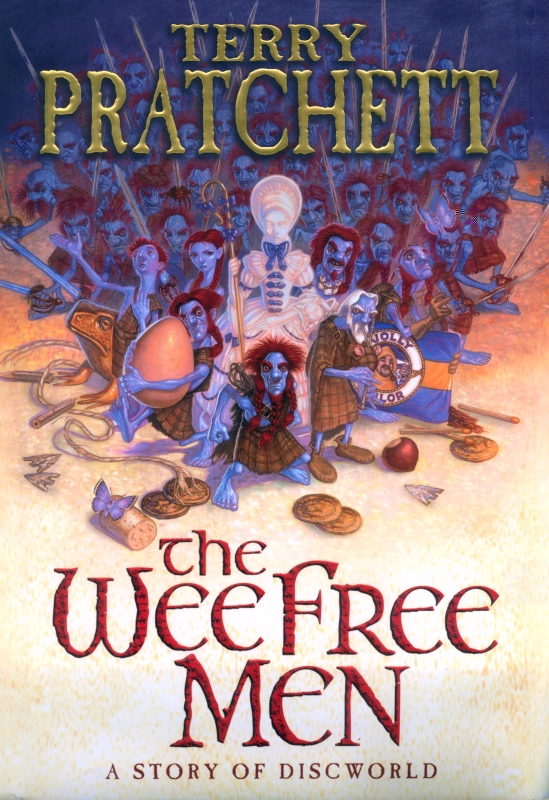 The Wee Free Men by Terry Pratchett
If you haven't read about Tiffany Aching, then you are missing out. One of the best young witches around. This is the first book in a trilogy.
Armed only with a frying pan and her common sense, Tiffany Aching, a young witch-to-be, is all that stands between the monsters of Fairyland and the warm, green Chalk country that is her home. Forced into Fairyland to seek her kidnapped brother, Tiffany allies herself with the Chalk's local Nac Mac Feegle - aka the Wee Free Men - a clan of sheep-stealing, sword-wielding, six-inch-high blue men who are as fierce as they are funny. Together they battle through an eerie and ever-shifting landscape, fighting brutal flying fairies, dream-spinning dromes, and grimhounds - black dogs with eyes of fire and teeth of razors - before ultimately confronting the Queen of the Elves, absolute ruler of a world in which reality intertwines with nightmare. And in the final showdown, Tiffany must face her cruel power alone....
Chime by Franny Billingsley
Before Briony's stepmother died, she made sure Briony blamed herself for all the family's hardships. Now Briony has worn her guilt for so long it's become a second skin. She often escapes to the swamp, where she tells stories to the Old Ones, the spirits who haunt the marshes. But only witches can see the Old Ones, and in her village, witches are sentenced to death. Briony lives in fear her secret will be found out, even as she believes she deserves the worst kind of punishment.
Then Eldric comes along with his golden lion eyes and mane of tawny hair. He's as natural as the sun, and treats her as if she's extraordinary. And everything starts to change. As many secrets as Briony has been holding, there are secrets even she doesn't know.
The Witching Hour by Anne Rice
This is the first in a trilogy.
In this engrossing and hypnotic tale of witchcraft and the occult spanning four centuries, we meet a great dynasty of witches--a family given to poetry and incest, to murder and philosophy, a family that over the ages is haunted by a powerful, dangerous and seductive being.
The Secret Circle by L.J. Smith
Forced to move from sunny California to gloomy New England, Cassie longs for her old life. Even so, she feels a strange kinship to a terrifying group of teens who seem to rule her school. Initiated into the coven of witches that's controlled New Salem for hundreds of years, she's drawn into the Secret Circle, a thrill that's both intoxicating and deadly. But when she falls for the mysterious and intriguing Adam, Cassie must choose whether to resist temptation or risk dark forces to get what she wants—even if it means that one wrong move could ultimately destroy her.
Whispering to Witches by Anne Dale
Joe is on a train to visit his mother for Christmas when he gets off at the wrong stop-and his life takes a very unexpected turn. With the help of a bewitched broomstick, he is whisked to the home of the Dead-nettle Coven of witches, where he befriends Twiggy, a young witch-in-training. Joe is quickly caught up in a dramatic plan to find a famous missing page from the greatest magic book in history. The witches of England are convinced that the page has fallen into the wrong hands and that if they don't find it soon, a terrible and destructive spell may be cast over the world. With a dash of adventure, a dollop of fun, and a pinch of magic, this book is a timeless charmer.
The Last Witchfinder by James Morrow
ennet Stearne's father hangs witches for a living in Restoration England. But when she witnesses the unjust and horrifying execution of her beloved aunt Isobel, the precocious child decides to make it her life's mission to bring down the Parliamentary Witchcraft Act. Armed with little save the power of reason, and determined to see justice prevail, Jennet hurls herself into a series of picaresque adventures—traveling from King William's Britain to the fledgling American Colonies to an uncharted island in the Caribbean, braving West Indies pirates, Algonquin Indian captors, the machinations of the Salem Witch Court, and the sensuous love of a young Ben Franklin. For Jennet cannot and must not rest until she has put the last witchfinder out of business.
The Witch Trade by Michael Molloy
Follow young Abby and Spike on their thrilling adventures through the fantastical world of THE WITCH TRADE. The evil Night Witches have invented a powerful new weapon and are threatening to take over the world -- and only Abby and Spike can stop them! Joined by Captain Starlight (aka the Ancient Mariner), Abby and Spike must travel through perlious seas and wild lands to reach the dark lair of the Night Witches. Can their ragtag bunch defeat the evil Night Witch forces before it's too late?
The Iron Witch by Karen Mahoney
Freak. That's what her classmates call seventeen-year-old Donna Underwood. When she was seven, a horrific fey attack killed her father and drove her mother mad. Donna's own nearly fatal injuries from the assault were fixed by magic—the iron tattoos branding her hands and arms. The child of alchemists, Donna feels cursed by the magical heritage that destroyed her parents and any chance she had for a normal life. The only thing that keeps her sane and grounded is her relationship with her best friend, Navin Sharma.
When the darkest outcasts of Faerie—the vicious wood elves—abduct Navin, Donna finally has to accept her role in the centuries old war between the humans and the fey. Assisted by Xan, a gorgeous half-fey dropout with secrets of his own, Donna races to save her friend—even if it means betraying everything her parents and the alchemist community fought to the death to protect.
I am sure I have missed a few fabulous witch books, so if I have, pop them in the comments box for everyone to enjoy.