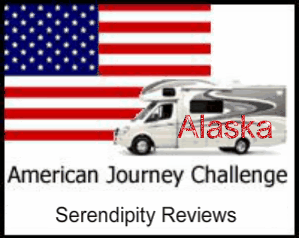 If you have been reading my blog for a few years now, you might remember I began an American Journey Challenge where I had every intention of travelling through all of America's states via literacy. I have this huge dream of one day, buying a winnebago and travelling the whole of America for a few months with my husband when we are old and grey. So knowing that this wasn't going to happen any time soon, I decided to take the literary journey first, as what better way to travel than by books.
Well when I began the challenge, I started alphabetically and managed to complete all of one state! Yep, I read my way through Alabama and then got sidetracked. Well it is something that has always bothered me and definitely something I wish to continue, so I thought I would resurrect the challenge and include weekly blasts here and there throughout the year dedicated to the exploration of different states.
So my next stop is Alaska!
From the 13th to the 19th of February this blog will be featuring all things Alaskan! I even managed to find a real Alaskan who has written me a fantastic post about what it is like to live there, as well as a nutty Australian who has travelled to Alaska.
I will also be featuring '
The Snow Child' by Eowyn Ivey
which is a magical tale set in Alaskan, and hopefully if all goes well, Eowyn will be telling us why she chose Alaska. Also, the lovely Sam at Headline has given me an extra copy of The Snow Child to give away to one lucky winner.
Other books featured are as follows:
There will also be some other Alaskan treats too. So make sure you stop by the blog between the 13th and the 19th of February for some Alaskan culture!