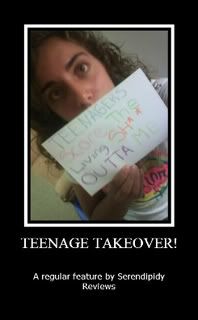 Livvy Love barged in through the front door yesterday demanding I put her review up. Who am I to argue with a hormonal teenager!
Frankie Foster: Fizzy Pop! by Jean Ure published by HarperCollins Children's Books in Mar 2011
The book is about a girl called Frankie who trys to help her friend to find her step mum. Frankie always gets blamed for things she doesn't do .
Who is the main character of the book and what happens to them during the story?
The main character of the book is Frankie but her friend Jem also plays a big part too. Jem is in it a lot because they are trying to find her step mum and Frankie just gets blamed for everything going wrong when she hasn't done anything.
What was your favourite part of the book and why?
My favourite part was right at the beginning when Frankie ruins Angel's shirt and she has a big strop.It was really funny.
Who was your favourite character and why?
Both Jem and Frankie.
What did you dislike about the book?
i didn't dislike anything, I loved the whole book. It was amazing.
Was there anything in the book you would like to have seen written differently?
I would have liked Mia to actually been Jem's mum. i think it would have been more exciting .
Would you read a book by this author again?
Yes i would definitely. In fact I am already reading the second Frankie Foster book in the series. .
Would you recommend this to others?
Yes I would recommend it to other people. It was amazing.
How many points would you give the book out of ten?
I would give the book ten out of ten. I loved it and can't wait to finish the second book.
So it seems Jean Ure and HarperCollins Children's Books have managed to woo Livvy Love. This could get expensive!