Some Books That I Have Read
Now, when I heard that my good friend and blogger Viv was struggling with Easter holiday blues, I couldn't help but offer a hand! The only thing is, she's already reviewed every book I've ever read. However, as I'm about eighteen months behind Viv in my reading schedule, I guess we could call these reviews 'timely repeats'!
Here are five, YA releases that I've enjoyed in 2012.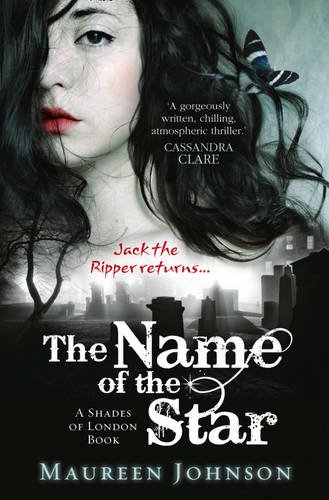 1. The Name of the Star by Maureen Johnson:
I took full advantage of the World Book Week offer and treated myself to this bad boy for a mere pound. Bargain. Brace yourself for what can only be described as 'a gush'. I LOVED this book. In Maureen Johnson, I may have found my new USYA bestie. The thing I hate most about YA fiction is when it takes itself too seriously. Not a trace of that here: this tale, about a Louisiana schoolgirl's encounter with a ghostly Jack the Ripper copycat is both chilling and funny. Reading London described through shiny new eyes is also a real treat. Highly, highly recommended; I can't wait for the next Shades of London book.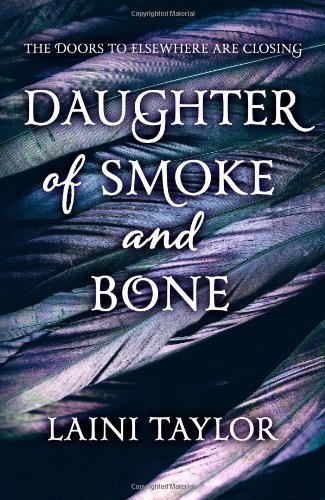 2. Daughter of Smoke and Bone by Laini Taylor:
Of the current slew of 'magical realism' YA tomes to arrive from the US, this is arguably the biggest (in sheer number of pages if nothing else). Like Johnson, there's a real humour about Taylor's writing that I immediately warmed to. An highly original premise: Blue-haired Karou secures teeth for her mysterious chimaera master, dipping in and out of Prague and a fantasy world. For me, the fresh opener staled on the arrival of angels (sigh), but I still loved Taylor's quirky style. The description of 'inessential penises' is nothing short of genius.
3. Department 19 by Will Hill:
I wonder if his favourite film is Kill Bill? I don't believe in 'boys' books' and 'girls' books', but I do believe in marketing departments and cover designers, and they would have us believe this is a boys' book. As such, I was led to D19 reluctantly, but I'm so pleased I was. Jamie is drafted into a military outfit of vampire hunters to save his mum in a fantastically gory adventure. Unlike a lot of 'Boys' Authors', Hill also presents believable and rounded female characters, I especially liked cool and seductive vampire girl Larissa.
4. Torn by Cat Clarke
: For me, Clarke is one of my very favourite voices in UKYA fiction. Her characters have a rawness and realness that few others have. Clarke's second novel concerns four schoolgirls, whose revenge scheme against the school bitch goes badly wrong. This one's all about guilt and consequences. While many writers (including myself) are traders in Hollywood-style endings, the end of Torn is fantastically true-to-life, which I found hugely rewarding.
5. The Forbidden Game Trilogy by LJ Smith: I still haven't bothered with The Vampire Diaries or The Secret Circle, but when I was a real teenager (rather than one in my head) I loved this series, which has now been repackaged on the back of Vampire Diaries success. The plot sees hapless Jenny and her friends getting sucked into an enchanted board game by sinister 'Julian' (which I concede is a shit name for any character). Over the three books, Jenny must outwit the games master, while fighting her emerging feelings for him. Something a little bit different – check it out!
Thanks James for coming to my rescue. I really appreciate the help. As you so kindly reminded me four days to go until the holidays are over! I should just mention that James has a rather fabulous YA book out himself called Hollow Pike, so make you read that one too.