As part of the Paige Harbison UK blog tour, I have a quick interview with the lovely author herself lined up. Her second book, New Girl, was published on the 4th of May and is a modern retelling of Rebecca by Daphne Du Maurier.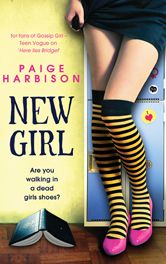 1) Why did you choose to write a modern retelling of Daphne Du Maurier's Rebecca?
I was going through a Hitchcock phase, actually! I was watching the movies and watching oldTwilight Zones during a particularly rainy month with a friend, and I just got so caught up in that creepy, spooky, moody mood. I thought of Rebecca, all about one woman's desire to be as good as another woman, and I was like…a girl is jealous of a girl and it's fuelled by her interest in a guy? High school! I'd loved the book when I was younger, and the fact that it's a classic that has been overlooked in this, the era of remakes, seemed like a crime.
2) Have you read many of Daphne Du Maurier's books and if so, which one did you love the best?
I read My Cousin Rachel when I was younger, but I definitely like Rebecca best.
3) How long did it take to write from summary to final draft?
About a year. It took a while to figure out how to weave the story just right.
4) Will you be visiting the UK soon to meet your British fans?
Oh, I'm dying to! I went to London when I was nine, and have been desperate to go back eve since. I even wanted to go to school there!
5) Can you tell us a bit about what you are working on now??
I am working on my next book now. I can't say too much, but that it delves into the friendship between two girls that become driven apart by their own personal fears made worse by a boy and a discovery in a creepy shop.
To find out more about Paige Harbison:
Twitter: @paigeharbison
Facebook:
http://www.facebook.com/AuthorPaigeHarbison
Website:
http://www.paigeharbison.com/www.paigeharbison.com/Home.html