Twitter is an amazing place! No really! When I began organising California Week, I never dreamt that I would be able to get a real life TV Executive Producer and his fabulous Hollywood Make-Up Artist wife on the blog! The amazing Michelle Bouse jumped at the chance and I am so grateful for the time she put in, especially as she had just returned from her holiday in Florida! Michelle has a brilliant beauty website which you can find here. She is also on Twitter as @michellebouse. So I will leave you now in the capable hands of Michelle and her husband Bill.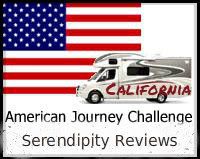 I'm often asked what it like to be a Hollywood Make-up artist and having an TV Executive Producer as my husband. It's not as glamorous as it sounds - it is A LOT of work and tongue biting, but YES! It has definitely been an adventure! I asked my husband some questions, then answered my most frequently asked questions. With a few fun photos we hope you can get a sneak peek of being behind the scenes with us on Hollywood shoots.
Bill:
What is your official title and what does it mean?
I'm the Executive Producer and Head of Production. Essentially, what that
means is, I am responsible for everything that winds up onscreen. I
oversee the production of the commercial, hire the director, producers,
cast and crew. I work with our creative team to develop a concept for the
project and then a script, plan all the filming days, pick the locations,
interview all the
testimonials on camera, and work with the editor to complete the
commercial on time and on budget, among a million other things. I'm
involved with everything from the "big picture" of planning a large five
camera shoot, to picking the most minute of details, such as the colour of
the flowers in the background of a shot.
What is a casting session like with all those beautiful models?
As a producer, I always approach casting objectively because I am looking
for a model who can best enhance the brand image, and not necessarily the
"textbook" version of what many consider to be "beauty." Some times, a
model might be absolutely "take your breath away" stunning, but would not
work well for what we want to accomplish, so we don't book her. I am
always looking for that "spark" a model has, which can sometimes be an
almost intangible thing that might only appear when she smiles, or looks a
certain way. That magic half second is the moment that often makes the
decision.
As for the casting sessions themselves, they are long days, and it really
is work (despite what many would think). Needless to say, I've had worse
days than seeing fifty or sixty beautiful women at a time.
What does a typical day for you look like?
I usually start around 8:30 in the morning and finish at
6 PM or so on most days, but during productions, I am up at 5 AM and
usually home at 11 PM. As is true with many jobs, I'm constantly fighting
fires that pop up at the worst possible time.
The days are always packed with detailed work, whether it be budgeting,
creative meetings, agent negotiations, location scouts, etc. You have to
have your head in the game at all times.
If you could pick a favourite shoot which would it be and why?
I really enjoy location shooting, even though it is the most difficult way
to shoot. I like the challenge, and getting out in the "world." I often
rent mansions in Malibu to film, right on the coast, since they allow us
to get a lot of looks out of one location. Plus, you just have a
beautiful canvas to work with for some great shots. And, at the end of a
three or four day shoot, when you know you've got great stuff, it's
sunset, and you look out on a beautiful view, and finally exhale - it's a
great feeling. You don't get that on a sound stage. I'm usually looking
at a grip truck or a generator. It's not the same.
How many celebrities have you met and who was your favourite?
I have worked with a lot of television personalities over the years, the
most recent being Jillian Michaels and Samantha Harris. I
have met many more in meetings to discuss various projects. Having
produced many, many fitness and beauty shows over the
past 16 years, I have worked with hundreds of models you have probably
seen dozens of times in magazines and on TV.
What do you love most about your job?
The fact that I can go to work each day, doing something that I have
dreamt about since I was eleven years old making home movies with a film
camera, and work with such a fantastic group of people, is beyond
rewarding.
**********
Michelle:
What are you favorite makeup products?
I use everything. I have a bridal kit, a TV kit, a fashion shoot kit and a airbrush kit. I love Laura Mercier concealers & tinted moisturisers. Gerda Spillman foundations. Cover girl Lashblast mascara. Ardell lashes & Duo adhesive. MAC lipsticks (viva la glam & spice liner are staples). Creme blush & Makeup forever black liner. Stila shadows & MUD shadows rock!
What was your craziest shoot?
Probably the craziest shoot I was on was shooting in downtown LA for over two weeks for all nights. We started at 4pm with makeup call times, started filming at 7pm and wrapped (finished) at 6am as the sun rose.
Who was your favourite celebrity?
I have two. Richard Thomas from the Walton's and Henry Rollins of Black Flag. Two nicest people I have had the pleasure of working with. Although I was star struck and had a dream come true when I was able to work on Joey McIntrye since I was a huge NKOTB fan in the 90s! (blushing)
What is the hardest part of being on a shoot as a makeup artist?
Location and the long hours are always a challenge. I've shot in studios, on locations, at celebrities homes, in the rain, in the subway, in the desert, in freezing cold, in a closed book store (that was one of the coolest shoots - overnight) and in a bathroom. It isn't as glamorous as one might think. I have to be awake and ready to greet and talk to people usually by 7am (that is set-up & at the location). No matter what is going on in my life, I have to have a smile on my face because my attitude & interaction with the talent will set the entire tone of the day. A good makeup artist makes their talent at home, comfortable and at ease without a stitch of makeup on their face.
What is it like working so closely on a celebrity?
Well, celebrities are regular people just like us. They just have a job that regularly puts them in the public eye. Some are delightful, some are very difficult. I have found the celebrities that have been around the longest are some of the nicest, most down to earth people. They are truly veterans of the entertainment industry and have nothing to prove, have been around and their careers have evolved. It is very important to ask before hand what their specific likes and dislikes are. I ask if they want me to use specific products or if they have an allergies. I love what I do and I am so blessed to have had the opportunity to work on all the personalities I have. It has been an amazing adventure!
Thank you so much Michelle and Bill for taking the time away from your busy schedule to write this post! I am so envious of the way you make a living! If I could I would be on the next plane out there.