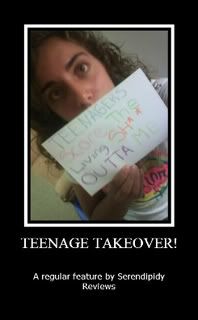 Published by Simon and Schuster in June 2012
Goodreads Summary
Nikki Maxwell isn't at all surprised to find out that her crush Brandon volunteers at a local animal shelter. He's such a sweet guy - of course he wants to help those adorable puppies! Then Brandon tells her that the shelter is in danger of closing, and Nikki knows she can't let that happen. Especially when she discovers a shocking secret about Brandon that makes keeping that shelter open more important than ever. So Nikki and her friends Chloe and Zoey enter an ice skating competition to help raise money for the shelter, but (big surprise) Mackenzie has to stick her nose in and cause trouble so that she can be the one to swoop in and save the day. No way will Nikki let that happen: She'll just have to come up with some extra creative ideas this time!
Livvy Love is back! To tell us how much she loves the Dork Diaries latest book!
Why do you like the Dork Diaries books so much?
I like the Dork Diaries because they are funny,teenage books and I also really like the style of them because they are written like real diary entries.
What is this book about?




The book is about a teenage girl called Nikki. When she finds out her true love is moving away she has to do her best to make him stay by skating to raise money for Fuzzy Friends, his grandparent's business. If she can save the business, he can stay. 




Who is the main character of the book? 
The main character is Nikki Maxwell. She is a really funny character who loves 

her friends 

and helps  them even if she doesn't want to.
What was your favourite part of the book and why?
My favourite part is when Nikki,Chloe and Zoey skate to save Fuzzy Friends. I like that part because it's so funny as only Chloe and Zoey can skate. Nikki can't skate at all but she tries her best.




Who was your favourite character and why?
My favourite character was Nikki because she helps her friends out through the whole book. She is just brilliant.




Did you find it easy to read? How long did it take you?
It was really easy to read because it was written in a diary format. It didn't take me long to read at all. A couple of days. 




Was there anything you didn't like about the book?
Nope. I liked everything. It was amazing.




Was there anything in the book you would like to have seen written differently?
I would of liked to see a different ending. Perhaps to see if Brandon goes away or something like that. Maybe find out who wins the skating competition.




Would you read a book by this author again?
Yes I would definitely read a book by this author again. 




Would you recommend this to others?
Yes I would recommend it. Mainly to kids who like reading books written in a diary format.




How many points would you give the book out of ten? 
I would give the book a ten out of ten because it was a really good book .
It looks like Dork Diaries: Skating Sensation was a big hit!