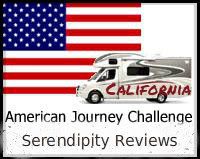 Do you have your sun cream?
How is your fake tan?
Are you ready to hit the Golden Coast?
To celebrate the publication of Emma Hearts L.A. by Keris Stainton, we are hitting the whole of California ALL WEEK! There might even be a giveaway!
The Winnebago is ready to blast it's way around California. We have some amazing guest posts coming, alongside some fabulous YA books based in California. There will probably be around two posts a day all week, as we have so much to see on our journey through California.
Here is a little bit of California to whet your appetite and get us on our way!