Friday Finds is a regular feature run by MizB over at Should Be Reading to highlight the books that you have discovered on your blogging travels and added to your TBR pile or wishlist. When I first started blogging this was one of my favourite features to run. So after discovering some really brilliant books lately I wanted to bring it back to the blog. With each book, I will tell you where I found it and give you the Goodreads Summary in italics.
Spellcaster by Claudia Gray
Published by Harper Teen in March 2013
I found this one over at Lynsey's blog -
Narratively Speaking
. I really loved the Evernight series and I desperately want to read Gray's book set on the Titanic, so as soon as I saw this one I wanted it too. Then when I realised it was all about witches, I was desperate. I do love a good witch book!
When Nadia's family moves to Captive's Sound, she instantly realises there's more to it than meets the eye. Descended from witches, Nadia senses a dark and powerful magic at work in the town. Mateo has lived in Captive's Sound his entire life, trying to dodge the local legend that a curse has been placed on his family that will cause him to go insane. When the strange dreams Mateo has been having of rescuing a beautiful girl—Nadia—from a car accident come true, he knows he's doomed.
Despite the forces pulling them apart, Nadia and Mateo must work together to break the chains of his family's terrible curse, and to prevent a disaster that threatens the lives of everyone in the town.
Larkstorm by Dawn Rae Miller.
Published by Finn Starr Publishing in January 2012
And this one from Lynsey's blog too. Lynsey sold me this book via her review!
In the years following the destructive Long Winter, when half the world's population perished, the State remains locked in battle against the Sensitives: humans born with extra abilities.
As one of the last descendants of the State's Founders, seventeen-year-old Lark Greene knows her place: study hard and be a model citizen so she can follow in her family's footsteps. Her life's been set since birth, and she's looking forward to graduating and settling down with Beck, the boy she's loved longer than she can remember.
However, after Beck is accused of being Sensitive and organising an attack against Lark, he disappears. Heartbroken and convinced the State made a mistake, Lark sets out to find him and clear his name.
But what she discovers is more dangerous and frightening than Sensitives: She must kill the boy she loves, unless he kills her first.
I found this one over at Carly's blog, Writing From The Tub.This will be a new publication for Strange Chemistry. Isn't it gorgeous! This will be published in January 2013.
Imagine a modern spin on Mary Shelley's Frankenstein where a young couple's undying love and the grief of a father pushed beyond sanity could spell the destruction of them all.
A string of suspicious deaths near a small Michigan town ends with a fall that claims the life of Emma Gentry's boyfriend, Daniel. Emma is broken, a hollow shell mechanically moving through her days. She and Daniel had been made for each other, complete only when they were together. Now she restlessly wanders the town in the late Fall gloom, haunting the cemetery and its white-marbled tombs, feeling Daniel everywhere, his spectre in the moonlight and the fog.
When she encounters newcomer Alex Franks, only son of a renowned widowed surgeon, she's intrigued despite herself. He's an enigma, melting into shadows, preferring to keep to himself. But he is as drawn to her as she is to him. He is strangely... familiar. From the way he knows how to open her locker when it sticks, to the nickname she shared only with Daniel, even his hazel eyes with brown flecks are just like Daniel's.
The closer they become, though, the more something inside her screams there's something very wrong with Alex Franks. And when Emma stumbles across a grotesque and terrifying menagerie of mangled but living animals within the walls of the Franks' estate, creatures she surely knows must have died from their injuries, she knows.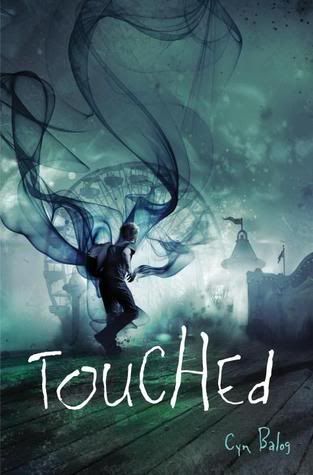 I found this one at Christy's blog The Reader Bee. The book will be published by Delacorte Press in August 2012. I haven't read any of this author's book yet but I do own a couple. I love the sound of this one.
Nick Cross always listens to the voice in his head. Because if he doesn't? Things can go really, really wrong. Like the day he decided to go off script and saved a girl from being run over . . . and let another one drown. Trying to change the future doesn't work.
But this summer at the Jersey Shore, something's about to happen that Nick never could have predicted. He meets a girl named Taryn and finds out about the Book of Touch. Now the path that he thought he was on begins to shift . . . and there's no way to stop things from happening. Or is there?
In a life where there are no surprises, nothing has prepared Nick for what he's about to discover--or the choice he will be forced to make. . . .