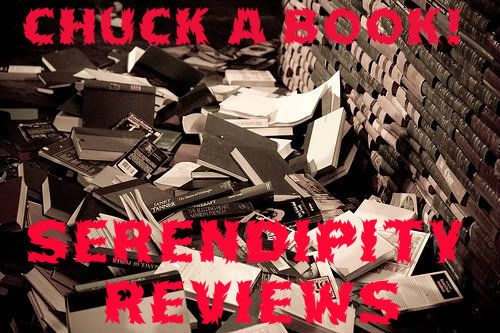 My next guest on Chuck A Book is Lynsey Rushby who used to blog at Heaven, Hell and Purgatory Book Reviews.
1) The best book you have ever read.
The Picture of Dorian Gray by Oscar Wilde will always be my favourite book. I remember reading it for the first time while I was at work and gasping out loud at times. A good imagination is needed when reading this and I see things differently each time I read it now.
2) A book you loved from your childhood.
Enid Blyton's The Magic Faraway Tree. I still have a copy of this book and the last time I read it, I loved it just as much. However, it saddens me that some names etc. have now been changed in these books to make them more current.
3) A book that made you laugh.
Adorkable by Sarra Manning. She has such a fresh and interesting voice and always comes up with the most amazing characters. This book had me giggling away well into the night and I couldn't put it down – even though I had to be up early the next morning.
4) A book you could not finish.
Stephen King's IT. I have always loved the film, as bad and cheesy as it is, so last year I bought the book thinking I would love it just as much. Unfortunately, I just cannot get on with King's writing style and only got through about 5 chapters before putting it down. I have tried again a couple of times but with no success.
5) A book that made you swoon.
Oooh this is an easy one. Perfect Chemistry by Simone Elkeles. One mention of Alex Fuentes will do it for me!
6) A book you can't wait to read.
Foretold by Jana Oliver. I need to read more about Riley and Beck after how Forgiven ended!
7) A series you have read and loved.
Jana Oliver's Demon Trappers series is probably my favourite at the minute. I can't wait to read her newest and I'll be sad when the series has finished.
8) A book that made you cry.
There aren't that many books that have ever made me cry. The only one I can actually think of is The Shadow of the Wind by Carlos Ruiz Zafon although I know there are a few more that I can't remember.
9) Your guilty pleasure book.
My guilty pleasure book is more a genre rather than one particular book. I love historical romances from the likes of Stephanie Laurens and Julia Quinn. They're a bit cheesy and a bit raunchy at times but I can never put them down once I start reading.
10) A book that took you out of your comfort zone.
Forbidden by Tabitha Suzuma was a tough read for me. Due to the subject matter, I was really unsure about reading it in the first place and then when I did, it was a struggle at times. The characters and relationship were too compelling to give up on.
Thank you Lynsey for taking part in Chuck A Book!