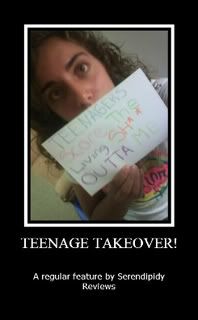 Lil' Dude joins us today to tell us all about Itch by Simon Mayo. Lil' Dude is probably my youngest reviewer, so give him a big hand for his first review.
Itch discovers some very rare elements and all of a sudden everyone is after t
hem.
Who is the main character of the book? Tell me a bit about them and whether you liked them or not.
Itch is the main character. I like him because he has a very important role in the book and what he does interests me.
What was your favourite part of the book and why?
My favourite part is where Itch threw the rocks down the well, fell unconscious and ended up outside Cornwall hospital. That was very tense and unpredictable.
Where was the book set? Could you imagine the settings easily from the descriptions provided?
Mainly in Cornwall as that is where Itch lives but they move around a lot. I found it quite easy to imagine where they were.
Who was your favourite character apart from Itch and why?
Probably Mr. Watkins because he helped out Itch a lot in the book and played an important role.
Did you find it easy to read? How long did it take you?
I found it very easy to read as I enjoyed it and it took me about a week.
Was there anything you didn't like about the book?
There were a few unanswered questions which I would have hoped to have found out and I would very much like it if there was a sequel to this book.
Was the ending satisfactory?
The ending to me was brilliant because I was definitely not expecting it!
Was there anything in the book you would like to have seen written differently?
I think
perhaps
it would've been better if
Flowerdew
hadn't escaped from jail.
Would you read a book by this author again?
Would you recommend this to others?
How many points would you give the book out of ten?
I think Itch by Simon Mayo is definitely a winner!