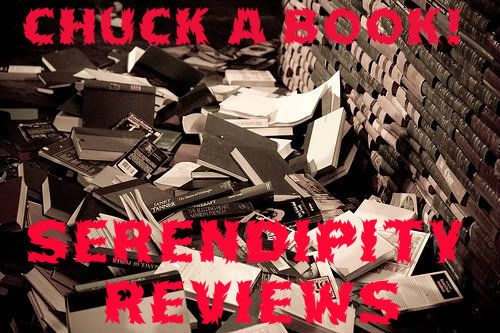 Today on Chuck a Book, I have Tammy February from The Book Fairy's Haven.
1. The best book you have ever read.
This one is a tough one to answer. There've been so many fantastic ones that I've read throughout the years, but I guess the two (and yes, there are two) that have stuck with me the most are The Sky is Everywhere by Jandy Nelson and Forbidden by Tabitha Suzuma (I'll elaborate a little more on this one later as it is the book that also took me out of my comfort zone).
For me, The Sky is Everywhere is one of those books where the personality of the characters in the book, especially Lennie, are so wonderful and so big, there's not enough room to describe the effect they have, even if you provided me with the space in which to do so. Lennie's grief, the raw emotion and the beautiful, poetic writing makes this one book that I keep coming back to whenever I find myself in either a: 1. Reading slump or, 2. In need of a pick-me-up. The Sky is Everywhere is a book that is heartbreak, hope and happiness all rolled up into one.
2. A book you loved from your childhood
Without a doubt, The Jungle Book – although I have to confess to first watching the movie before reading the book. Luckily I loved both, and to this day, it still happens to be one of my favourite childhood reads.
3. A book that made you laugh
Strangely enough, I often seem to go for the more angsty reads, but I've recently read a YA Paranormal Fantasy novel, Flying Blind, which was one of the most surprising and most entertaining fantasy reads I've read in a while. The novel is hysterically funny. Zoe, the main protagonist of the story, is one kick-ass heroine and is deadpan, snarky and incredibly witty. She has this wonderful, ironic and self-deprecating-without-feeling-sorry-for-herself vibe going on and easily had me laughing at her endearing, clumsy and action-filled antics. She's definitely one of the funniest heroines I've come across, and reading her story is such a fun treat. I'd definitely recommend this for anyone looking for a fun, light-hearted take on dragon lore!
4. A book you could not finish
Matched by Ally Condie. Oh gosh, I tried. I really did. I even put it down in the hopes of getting back to it, because I thought just maybe I wasn't in the right mood frame for it, but alas. Unfortunately, I just couldn't get into the story.
I think Ally is a phenomenal writer, and her prose is certainly beautiful, but I just felt as if I couldn't connect with any of the characters or bring myself to care enough to see what happens to them.
I really, really hate giving up on books, and it usually takes a lot for me to do so, but there was nothing about Cassia or Ky that made me want to stick around to see how their story unfolds. Having said that, because I love Ally's writing, I'll definitely read more of her books… just not her Matched trilogy.
5. A book that made you swoon
Ooh, but you ask tough questions. You mean I have to choose just one? *wails* OK, if I had to choose, I'd go for The Body Finder.
Three words: Violet and Jay. Do I need to say more? (I didn't think so either)
6. A book you can't wait to read
OK, this is probably going to come out of left field, and also because I tend not to go for the obvious and hyped up reads first, but the book I really can't wait to read next is Greta and the Goblin King. Being a fan of David Bowie and Labyrinth, this book pretty much had me at Goblin King. Heather, reviewer on Goodreads has described this, and I quote: as "Hansel and Gretel meets Alice in Wonderland and Labyrinth". Now tell me you aren't intrigued? Better yet, here's the link to the book summary. http://www.goodreads.com/book/show/13260802-greta-and-the-goblin-king
Go on. You know you want to. :)
7. A series you have read and loved
The Mortal Instruments. I haven't finished the entire series yet, but I've loved every book I've read in this series so far.
8. A book that made you cry
On the Jellicoe Road. Oh gosh, I can't even begin to tell you how much this book wrecked me and it surprised me because based on the synopsis, I thought it would just be another slightly sad contemp read. You know the ones I'm talking about. The make-you-sniff-but-not-sob-out-loud ones. I thought it was going to be one of those. Boy was I in for a surprise. On the Jellicoe Road is a book that packs an emotional punch big time. I never got what all the fuss was about until I read it, and it's not something I can fully describe,
except to tell you that you should experience it. If you experience it, you'll understand why it's so impossible to put an incoherent thought about this gut-wrenching read to paper.
9. Your guilty pleasure book.
It's definitely Hush, Hush by Becca Fitzpatrick. And yes, it's all because of Patch. Not gonna lie about that one.
10. A book that took you out of your comfort zone.
Forbidden by Tabitha Suzuma. Ah yes, the book that not only tackles incest, but consensual incest at that. The thing about this book, is that even though I had my own definite set of viewpoints regarding the subject of incest, Tabitha portrayed Maya and Lochan's story in such a sensitive, unflinching and gut-wrenching manner, that I found myself rooting for Maya and Lochan in spite of my beliefs. To this day, it's still one of those books that will vividly stay with me for the rest of my life.
Thank you Tammy for taking part. If you would like to be featured on Chuck a Book, please send me an email at vivienne_dacosta@hotmail.com.