I am pleased to welcome Elen Caldecott onto the blog today to talk about her latest book cycle which took The Marsh Road Mysteries from idea to published book.
The first book in my new series, The Marsh Road Mysteries began in a panic. I had written a book, delivered it to my editor, and… she didn't like it. She was completely right, it didn't work, but I was left with a whirlwind of emotions (mostly, can-you-od-on-chocolate?), and no book.
She asked me to go to London to pitch alternative ideas. In a week's time.
That was a week of soul searching, but no writing. I didn't want to turn up with a half-edited, speed-written manuscript. So, instead, I decided to go back to basics. What do I love to read? What do I love to write?
From that moment of clarity, Marsh Road fell into place quickly. I love detective stories, I love gangs of kids, realistic kids, muddling along as best they can. I would pitch a contemporary detective gang!
But who would they be?
I collect pictures. I have folders full, faces cut from magazines, postcards from gift shops. I trawled those, and flickr, searching for just the right children. And I found them. I decided they would all live on a London street I knew well, Lower Marsh in Lambeth (this location didn't make the final edit, but it served me very well at the planning stages). Google Street View provided images of their homes. And, of course, the Old Vic Theatre. Having such an amazing building nearby suggested a plot – a visiting Hollywood star might be in possession of some valuable - stealable - diamonds!
I went to meet my editor with a folder of photos, and an infectious enthusiasm. I left with the commission.
So, I had to flesh out my ideas. A new notebook is the perfect start to a new novel. So, I got one and started jotting down notes about my characters, their families, my locations, and, of course, suspects!
This was all very much note form, but I was able to identify seven, or so key scenes: getting the gang together; the crime; the gang deciding to investigate; clues one, two and three; and revealing the culprit. It helped enormously that there are genre conventions when it comes to structuring detective stories.
From there, I moved my notes across to Scrivener. It's a programme I love because you can pick up scenes and move them around, and make notes in the sidebar to help you remember faults that need fixing. Now the plot could get more complicated. I think in terms of Scenes and Acts, not chapters, so I can be clear when the pace needs to move up a gear.
But it can be tricky to keep a whole plot in mind, even with the help of a computer programme, so I also use the back of film posters (I work once a week in a cinema) to map out the scenes and make sure the story is still on track.
I'm a huge believer in walking away when I get stuck too. So, if I don't know what a clue might mean, or I've got a character stuck in a corner, then I put the dog on the lead and we go for a walk. Nine times out of ten something useful will occur to me while she scampers after squirrels. So, I keep my notebook handy, even when the writing process is well underway. My notebook also has a handy pocket for my inspiration pictures!
So, I would say that I start knowing a few key scenes. I'll position those in the right place in my act structure, and then, I'll write, in chronological order, linking those scenes together. As it is a bit more 'pantsed' than 'plotted', I'll have to recalibrate occasionally, using handwritten maps.
I aim to write a first draft in two months, averaging 1500 words a day. Then, I spend a more leisurely (!) three months editing. I'm three books into the series (written not published), and I'm as fizzing with excitement for them as I was when I first got on the train at Temple Meads. I really hope readers grow to love the Marsh Road Investigators as much as I do!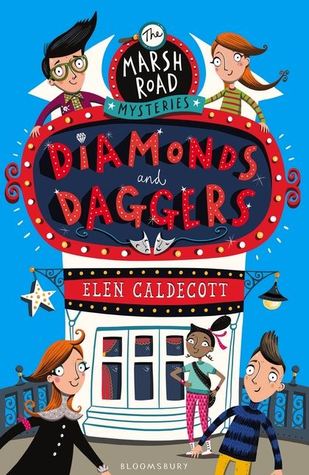 The Marsh Road Mysteries: Diamonds and Daggers by Elen Caldecott. Published by Bloomsbury Books in February 2015
To find out more information about Elen Caldecott: