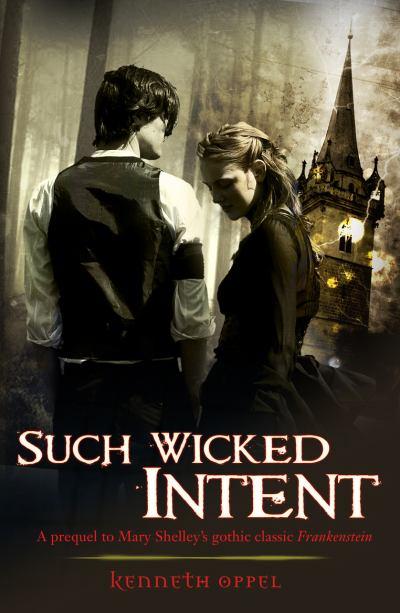 Published by David Fickling Books in August 2012
Book kindly sent by publisher for an honest review.
The books flew open like startled brids trying to escape the flames. One after the other I savagely hurled them into the hottest part of the bonfire, watching them ignite almost before they landed.
When does obsession become madness? Tragedy has forced sixteen-year-old Victor Frankenstein to swear off alchemy forever. He burns the Dark Library. He vows he will never dabble in the dark sciences again—just as he vows he will no longer covet Elizabeth, his brother's betrothed.
If only these things were not so tempting.
When he and Elizabeth discover a portal into the spirit world, they cannot resist. Together with Victor's twin, Konrad, and their friend Henry, the four venture into a place of infinite possibilities where power and passion reign. But as they search for the knowledge to raise the dead, they unknowingly unlock a darkness from which they may never return.
This is the second prequel to Mary Shelley's Frankenstein, the first book being This Dark Endeavour which deals with the strong and yet difficult relationship between Victor and his twin brother, complicated by their friendship with Elizabeth. Such Wicked Intent continues the story after the death of Konrad and it is much darker and deeper than the first. I think the author has done an outstanding job in creating the early years of Victor Frankenstein, allowing you to easily visualise how he came to create Frankenstein in the first place.
I really hope there are a few more books in this series to fill in the gaps because reading them is like drinking a very expensive and richly flavoured bottle of wine - the words are like velvet smoothly lifting off the page and settling comfortably into your mind.
I was extremely impressed by the masterful plot and the well paced rhythm of the story making it difficult to put the book down.
When you begin reading this series, you get such a sense of uneasiness in your stomach, as you know that the events that take place are unlikely to be pleasant. If you have a weak stomach, you may not quite be ready for such a disturbing yet compelling story.
The author's depiction of the after life was intriguing - it is the first time I have ever read it written in such a way where our souls appear to stay in our original dwellings only on an alternate plane, invisible to the living. The whirling mist, a character in itself, swirls around the house in a frightening manner, appearing ominous at first but as the story develops you get a clearer picture of what it actually is. The black butterflies are a completely ingenious addition to the plot!
The relationship between Victor and Elizabeth takes an interesting turn in this book. To an extent I found their relationship uneasy and also unhealthy at times as Victor spirals down onto the brink of madness. Elizabeth is quite a fiesty character and definitely her own woman as she strides ahead of the boys to get what she wants. In this book, she embraces her darker side and you will be surprised by the actions she take. There is a strong sense of lust rather than love between them and I cannot help but feel they will be the downfall of each other, which I believe happens to be the case. I am only vaguely aware of the story in Frankenstein as I have never read it. If there are to be no more books in this series, it will definitely be a must for future reading.
This book closely examines unhealthy obsessions and you watch breathlessly as Victor takes steps too far into the underworld, as grief engulfs him every waking moment. He has lost control and you are desperate for him to regain his sensibility.
This book is extremely well written and very atmospheric. Not one to be read in the dark alone. I think the author has captured the tone and feel of Frankenstein with ease and yet given it his own original touch of Gothic charm. If you are looking for a book to see you through the dark hours of Halloween, then this is one I would definitely recommend.