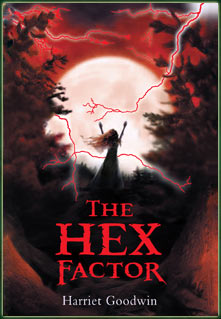 Published by Stripes Publishing in September 2012
'It's no use hiding behind that pile of books!'said Mr Wood, smiling across the classroom at Xanthe. 'I know you're there.' He checked the register. 'And since you're the only person who hasn't spoken yet, I'm guessing you must be Xanthe Fox. What an unusual name!'
Xanthe Fox can't wait to turn thirteen, but as the big day arrives her world starts to fall apart. Set-up at school for something she didn't do, it seems her age-old enemy, Kelly, is making trouble for her...and as things escalate, even her best friend Saul starts to doubt her innocence. With the school threatening to expel her, and mysterious glowing Xs appearing in front of her eyes, Xanthe turns to Grandma Alice for help. But what the old lady tells her will change Xanthe's life for ever...
This is a briskly paced school fantasy ideal for pre-teen girls. Told from the point of view of the heroine, Xanthe, it blends familiar school difficulties with an element of magic.
There is a small cast of well-defined characters: I particularly liked Grandma Alice and her cat, Blanche. Readers will enjoy recognising the kinds of problems that they encounter and the struggles that Xanthe has dealing with them – best friends, rivals, a possible boyfriend.
There is a strong element of family support involved but Xanthe does her best to sort her life out for herself. Readers will feel for her as her efforts only make things worse. The fantasy element is integral to the story but feels credible in this context – it seeps in gradually and then springs a few surprises.
I think many of the intended readers will identify strongly with the likeable Xanthe and would be very pleased if there were a sequel. 'The Hex Factor' works perfectly well as a standalone – but equally Xanthe could easily have more adventures.
The striking cover will make sense to the reader later on in the novel – and the vignettes at the top of each chapter are a pleasing feature. We should have more pictures in older books, I say – well done Stripes Publishing!