Really Random Tuesday is a meme created by Suko at Suko's Notebook which is a way to post odds and ends--announcements, musings, quotes, photos--any blogging and book-related things you can think of.
***********
The lovely authors over at Girls Heart Books are having a bumper first giveaway which goes live today. If you have young girls aged between 8 and 14, then you might want to help them to enter.
There are two selections you can win from - one giveaway for 8 to 11 years old and one giveaway for 11 to 14 years old. A good year to be 11!
There is an option to print off the posters for the goodies, so please visit the blog here to find out more.
There are over 30 books that need new homes and the competition is only on for THREE days, so what are you waiting for.
**********
The lovely authors over at Chicklish have just set up a new challenge. It's a reading challenge where bloggers sign up to read YA books that are set in New York. The books can be old or new and in whatever genre you like as long as they're based in New York. The challenge begins now and runs until the end of the year. There is even a list of possible books that you could read for the challenge. If you are interested in joining, then please click here to find out more about it.
Just found out that Witch Song by Amber Argyle is going to be published in the UK by Rhemalda Publishing in September 2011
. Yay -
I am extremely excited by this.
Boys Don't Cry by Malorie Blackman comes out in paperback this week and here is a fabulous trailer to tempt you into buying it.

**********
Remember how much I told you I loved the Wintercraft series by Jenna Burtenshaw? Well you lucky Americans are about to get the opportunity to read it for yourselves.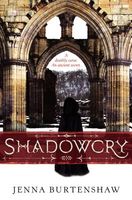 Wintercraft has been renamed Shadowcry for the American audience and will be available to buy from the 21st of June.
That is my bumper post of randomness, I hope you find something that interests you.