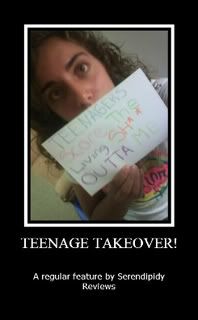 Help!
My blog has been hijacked by a group of ruthless, no nonsense teens and preteens who heard through the underground networks that I review books aimed at that age group. They have taken my blog hostage and are insisting on some ground rules before they give it back.
They want to review books too. So I have relented and agreed to allow them to review the odd book in the future to keep the peace. They will be honest and say what they think about any Middle Grade and Young Adult books they read. I will just stand back and let them take over once in awhile in return for keeping my blog alive. Just to help them along and keep my blog on the right pathway, I have given them some questions to help them along. Will they love or hate the book? Who knows!
They have asked to remain anonymous for fear of being discovered and their identity reaching the newspapers. I have agreed to give them psuedo names to cover their tracks.
Up first we have Contemporary Girl with her review of Boy's Don't Cry by Malorie Blackman.
What is the book about?
Dante has just finished school, and he has his life all planned out. He would like to be a journalist and his future looks bright. But that all changes when the doorbell rings, it's his ex-girlfriend and shes carrying a baby....
his baby.
Who is the main character of the book and what happens to them during the story?
Dante is the main character. His ex-girlfriend came round holding a baby, and to his surprise it was his baby. Mel(his ex girlfriend) asks if he can look after it for a while. He says yes, but only for a couple of hours, but then she doesn't come back to come and collect Emma. Throughout the book Dante gos through some ups and some downs,but he copes okay especially when his brother is recovers fully from the dreadful accident he had.
What was your favourite part of the book and why?
Chapter 44-50, because that's when Dante's brother Adam finally comes out of his room and has the first proper conversation with his brother in weeks, and Dante explains to him why being gay shouldn't make you different. Meanwhile, Dante is coping well with Emma and Emma is learning how to talk, also Date had a visit from a social worker to see how he was coping.
Who was your favourite character and why?
Dante is my favourite character because, he goes through some ups and downs with Emma, and he copes really well whilst his brother is in hospital critically ill. He also makes you laugh when he is talking to Emma.
What did you dislike about the book?
I didn't dislike anything about this book, it was all really good!
Was there anything in the book you would like to have seen written differently? ( Different ending, a character acting differently, a relationship developing that didn't)
I wouldn't of liked anything to be different, it was perfect as it was!
Would you read a book by this author again?
Would you recommend this to others?
How many points would you give the book out of ten?
It seems we have a winner! Contemporary Girl gives the thumbs up for this book. Will she be so generous next time? Will the others be so kind to the books they review. I do hope so, but if they are not it is out of my hands. Eeep!