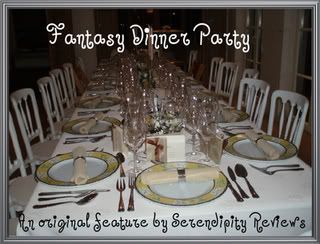 The lovely Lucy Coats, author of the Greek Beasts and Heroes series, published by Orion Children's Books, joins us today to tell us about her fantasy dinner party. When given the task, Lucy entered it with great gusto and even produced a menu and a location for the meal. I will now hand you over to the extremely organised part host.....Lucy Coats.
I really love quite small, intimate supper parties, where you can talk to everyone properly and steal food off other people's plates (especially anything with chocolate in it). However, there's nothing to beat a really good fantasy dinner party, complete with linen tablecloths, silver candelabra, lead crystal and all the proper wotnots, including a butler, footmen and someone to cook and do the washing up. Yep – you guessed it – I'm having mine in the dining room at Downton Abbey! Of course, I'll have planned the menu ages in advance, and there'll be no expense spared. My mum's a cookery writer, so I know what good food should taste like – but since this is fantasy and I can do what I like, I'm going to have a selection from my Most Memorable Meals, including an unctuously scrambled duck's egg with fresh truffles I had in Paris about twenty years ago and have never forgotten.
But what about those 11 guests? They, of course, are the most important ingredient of all, so here goes with my slightly eccentric mix of invitees...I'll be sitting next to all of them at some point.
1. Elizabeth Bennett:
Yes, yes, I know. Everyone always chooses Lizzie. But I love her for her feistiness and her humour, and I see her as a fledgling feminist. I'm guessing she'd lap up tips on modern life from guest number 3.
2. Jamie Fraser:
who he? I hear you ask. Let me introduce you to the sexiest 18th century Scot ever, who appears in Diana Gabaldon's Outlander series. He may be rough and tough, but he scrubs up beautifully, and is incredibly well-read and cultured, speaking both Greek and Latin. Notice I'm carefully not mentioning that there is nothing more magnificent than a man in full Highland dress *goes off into small reverie*.
3. Caitlin Moran
: I'm a big fan of Caitlin's book How to be a Woman, and she is now Lovely Daughter's icon of modern feminism. Her writing makes me laugh, and I'm guessing she's a party girl. Also, we are as one on the subject of the awfulness of high heels. I'd let her choose the after-dinner dance music, for when we're all slightly drunk and getting guest 9 to show us how to do the Walk Like an Egyptian properly.
4. Morgan Freeman:
quite simply, God. I adore his acting, and how he makes me believe in every character he plays. I'm putting him in charge of charades afterwards, and I'm on his team.
5. Diana Athill:
grande dame des lettres, growing old with honesty and great grace. I want to be her when I grow up, since I love her unconventional spirit and her intellectual rigour. I also think she could more than hold her own with guest number 6, which is saying something.
6. Don Esteban Maturin y Domanova aka Stephen Maturin:
Irish-Catalan spy and all round naturalist eccentric from Patrick O' Brien's Aubrey/Maturin novels, who makes me laugh with his dry wit and awful habits. I shall insist he changes his shirt and doesn't dissect rotting specimens on the table, though. I'm rather hoping he'll bring his violin and play us a little something from Le Nozze di Figaro, and perhaps his Lament for the Tir nan Og and regale us with tales of lobscouse and derring-do.
7. Diana Wynne Jones:
one of my great regrets in life is that I never met Diana, who is without doubt my favourite children's author, and the one who set my own pen on the fantasy page. I'm feeling that she'll be quite at home with guests 8 and 11, and there'll probably be a small temporal shift in the middle of the dinner party (so we all have time to make room for more food), if she has anything to do with it.
8. Dr Who:
I'm torn between his Smith and Tennant incarnations, but I'm going with the Eleventh Doctor, because I find him increasingly interesting, and I like that rather tortured forehead. Obviously, I'll have to borrow the Tardis from him to fetch guest 9, but I'm sure I can handle the controls. He'll also be bringing a few surprise delicacies from the Restaurant at the End of the Universe for us to try, along with Pan-Galactic Gargleblasters to get us all in the mood (yes, yes, I'm mixing my fictional worlds – but it's my party and I'll do what I like).
9. Cleopatra:
I just want to know what it was about her which makes her the female historical figure we all know about 2000 years later. Since she would have spoken Greek, both guests 2 and 6 can chat away to her. And the rest of us? We'll just have to ask Dr Who to fetch us some babelfish, along with the PGGBs. She's leaving the asp at home, by the way.
10. Terry Pratchett
: I love the Discworld with a passion, and Terry is another writer I am in awe of, simply because he's such a damn good storyteller. He slips in all sorts of incredibly arcane and intellectual stuff about things like physics without anyone noticing. I'd really like to get him and guest 5 together, because I think they'd have a lot to talk about concerning death and dying, which sounds morbid, but isn't at all. We should all make death a part of our human conversation, I think.
11. Merlin:
I have so many questions for Merlin, that I may become incoherent and spit truffle all over him. Before the end of dinner I will have the proper story of Arthur out of him (and what really happened with Nimue), or he's not getting any of my 30 year-old malt whisky. He can bring the owl Archimedes as long as it promises not to leave owl pellets under the chairs.
That's it. Now where's my best fountain pen to write those stiff, gold-edged invites out...?
Oooh what a fantastic guest list, I think I might just want to sit next Merlin! Check out the fantastic menu Lucy has created below too. Enough to make your mouth water. If you would like to know more about Lucy Coats, then check out the links below the menu.