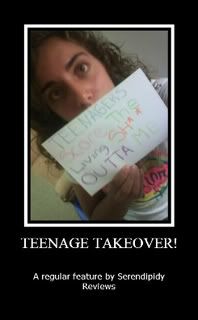 Oh dear! I had hoped to escape throughout the rest of the year without any more invasions from that teenage gang who hang out on the corner of my street. Alas no, one of them has been hounding me all week for a spot on my blog. I caved and gave in. I shall now hand my blog over to Livvy Love,the romantic YA reader with her review of Love Lottery by Cathy Hopkins
Q: What was the book about?
A: The book was about a girl called Rebecca who goes through quite a rough time at home because her parents have split up and her friends are slowly drifting away.
Q: Who was the main character of the book and what happens to them in the story?
The main character was Rebecca and she runs away from home as she can't cope with her parents splitting up.
Q:What was your favourite part of the book?
A: I didn't really have a favourite part as I like the whole book.
Q: Who was your favourite character and why?
A: My favourite character was Rebecca because her story was really interesting and I just really liked her.
Q: What did you dislike about the book?
A: I didn't dislike anything. I loved the whole book and I would definitely read it again.
Q:Was there anything in the book that you would like to have seen written differently?
A: No. The book was good just the way it was.
Q: Would you read a book by this author again?
A: Yes I would because she writes about relationships and I love relationship books.
Q: Would you recommend this to others?
A: Yes, I would. Mostly to people who like books about love. It was AMAZING!
***********
It seems we have a thumbs up for Cathy Hopkins and Love Lottery. Thanks Livvy Love for a good honest review.