This is the third day of the joint UK and USA blog tour for The Statistical Probability of Love at First Sight and I am happy to be sharing the spotlight with
Good Books and Good Wine
today. Both blogs will be featuring half of a day in the life of author Jennifer E. Smith. I have the first half of the day and if you pop over to Good Books and Good Wine later, you will be able to read the second half of Jennifer's day.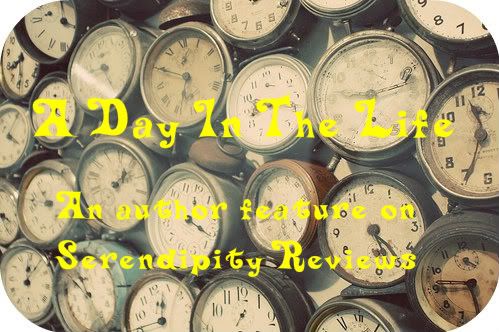 Typical Day in the Life of Jennifer E. Smith
6am – My alarm goes off. I hit snooze. Several times. I don't usually get out of bed until about 6:30, at which point I take a quick shower, throw on some clothes, and take my dog to the park across the street, where I distractedly play fetch with him while reading the
New York Times
on my phone.
7am – While the dog runs madly around my apartment with a squeaky toy, I finish getting ready, eat some breakfast, and watch a bit of the news. In addition to being an author, I'm also an editor, which means there's always lots of reading to be done, so I'm usually reading a manuscript on my Kindle in between things, frantically trying to get through some last minute pages before work.
8am – I'm out the door and heading to the subway. My office isn't too far, so I usually just listen to music and zone out on the way. This is when I often think of really good writing ideas, which I have to put on hold until I get a chance to focus on them later. When I get to my office, I spend the first hour or so responding to emails and just generally trying to get myself organized.
9am – Phone calls with authors and agents, lots and lots of emails, and quite a bit of staring out my window, which looks out over the west side of midtown Manhattan and is great for people watching.
10am – On this particular day, I have an editorial meeting, where all the editors gather to discuss the manuscripts we're reading, especially the ones we're really excited about. It's always fun to hear about what others are reading, especially since everyone has such different tastes.
11am – Next up, a cover meeting, where I'm choosing a jacket for a collection of dog stories I edited. There's nothing more fun than picking from a sea of adorable puppy photos. There's one that I especially love, so I send it to the author and hope he feels the same way.
12pm – More email, more phone calls. My best office friend stops by, and we procrastinate for a bit. Just before heading off to lunch, I put my author hat on for a few minutes, returning an email to my agent and checking over the copy on the beautiful cover for my middle grade novel, which comes out in April.
1pm – Lunch with an agent at the French restaurant across the street. We talk about books we're excited about, books we're reading for fun, the effect of e-books, etc. It's a fun perk of the job to get to meet up with other industry people who love books as much as I do.
2pm – My afternoon is free of meetings, which is nice, so I have some time to do a little bit of editing at my desk. This is pretty rare; most of the time, the reading and editing come home with me. I always feel really lucky when I can find a pocket of time to do this at the office.
3pm – Still editing when a submission comes in from an agent I really admire, so I drop everything to read the first chapter at my desk. It seems promising, which is exciting; there's nothing better than that hopeful feeling you get when you read a few pages of something with potential.
4pm – I have to return some more phone calls, and then write a few rejection letters for submissions that weren't as promising. This is one of the hardest parts of being both an author and an editor – the writer part of me is acutely aware of how much work goes into a novel, and how it feels to get a letter like that, but the editor part of me needs to be discerning. I've been doing this for years now, and it never gets easier to send along those passes.
5pm – I'm wrapping things up after a busy day. My days at the office are obviously a lot different than the ones that I'm home writing, which usually happens one or two days a week. My schedule on those days would look more like this: Wake up, go to park, write, daydream, write, take a break, write, daydream, write, take a break, write, daydream, write, go to park, write, go to bed. Plus meals. And probably some TV time too.
Phew! Thanks Jennifer for giving us an insight into part of your day.
To find out more about Jennifer E. Smith