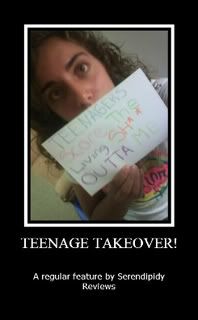 And there was me thinking January would pass quietly without interruptions. No chance of that, Baby Belle steps forward to review her latest read. A lover of all books graphic she couldn't resist reading this MG, especially as she dreams of stardom!
Meet Polly Price, owner of the world's most embarrassing mother: actress and all-round airhead Arabella Diamonte. Who has just been cast in a touring production of a new play, meaning Polly is heading to San Francisco for what may well turn out to be the craziest summer holiday of her life. Read Polly'swonderfully funny diary as she records the mishaps and mayhem backstage, before all of a sudden the spotlight is on her!
Published by Red Fox in March 2012
The book

is about a young girl whose mum is famous and she gets to go to San Francisco with her. Throughout the book she finds out who her worst enemies are as well as discovering the boy of her dreams.
Who is the main character of the book and what happens to them during the story?
The main character of the book is a girl called Polly Price who ends up betting her enemies. She becomes the star of the show which makes Ophelia and Aurora, the enemies very angry.
What was your favourite part of the book and why?
my fav My favourite part of the book was when all the cast members and the whole studio went t
o the beach. Polly's enemies end up getting hurt and then one of them loses her voice from being too

loud. It was so funny because then it meant that Polly had to take their place and gets to perform in the show. I also liked that it was a graphic book, which I really love reading.
Who was your favourite character and why?
My favourite character is Polly because she is not mean and horrible like the other two girls, even if someone was being nasty to her. She is also a good actor and very pretty as well.
What did you dislike about the book?
Was there anything in the book you would like to have seen written differently?
I wanted the relationship between Polly and Will to develop further, so that they
ended up going out with each other.
Would you read a book by this author again?
Yes the author is amazing!
Would you recommend this to others?
Yes i would as it is a brilliant book.
How many points would you give the book out of ten?
I give it 10 because it was amazing!
So it looks like Polly Price's Totally Secret Diary: On Stage In America was a hit. I am now wondering why my Amazon account seems to have purchased the rest of the series. Sigh.