To celebrate the publication of Kiss Date Love Hate by the amazing Luisa Plaja, I managed to convince her to write a fantasy dinner party post. Keep reading to find out who she invites.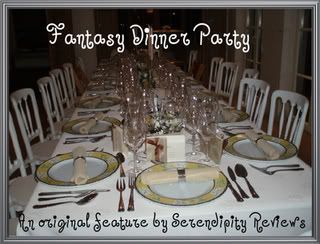 Hello, hello! Come on in and help yourself to the crisps. I'm so glad you could make it to my fantasy party. You're the first guest here, or should I say, group of guests. In fact, there are so many of you that this isn't really a proper dinner party; it's more of a mill-about-chatting gathering. (And it's just as well, too, as this means you'll all be spared from my cooking.)
Yes, my first fantasy guest pick is this:
Readers and Book Bloggers
… because you're all wonderful. Plus I'm dying to discuss books with you.
I'm sure we can fit a few others in, so here's who I've invited. Hopefully we'll find a few minutes to talk to them in between bookish chats.
Spike from Buffy
– because he's my all-time favourite vampire - everyone should have one - and his wit can liven up (or undeaden up) any occasion. I'll try to ensure his chip is working so that hopefully he won't attack us all.
Joss Whedon
– because he's Joss Whedon, and everything he touches turns to ground-breaking quality entertainment. (Also, I wonder how he'd react when faced with a character he created...)
Jane Espenson
– so I can eavesdrop as she chats to Joss about Buffy days gone by, and also so that I can tell her how much I loved all the webisodes of Husbands. (http://husbandstheseries.com/)
Donna Martin
from old 90210 and
Naomi Clark f
rom new 90210 – Donna, as ever, is there for comic relief, in case we all get too serious. Plus I'd love to catch up and find out how things are going with David Silver. Naomi is there so that I can say, "Naomi, nooooo! What are you thinking?" Whatever the current storyline of 90210 is when you read this, I'm pretty sure this will apply. If I can stop her doing even one more thing that messes up her life, then this whole dinner party will be worth it, even if Spike's chip deactivates and we all end up on the menu.
I think I'll leave it there and begin the chatting. So… what have you been reading lately? (Wish Spike would stop looking so fed up and/or pretending to be from a post-apocalyptic world! OK, which of you book-bloggers told him that you've read more dystopian than vampire fiction lately?)
Thanks Luisa for a great party. I am so happy to have caught up with Donna Martin! It feels like it has been years!
This book comes out today!
To find out more about Luisa Plaja:
Twitter: @LuisaPlaja