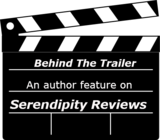 The trailer for Struck by Jennifer Bosworth
I am so excited to be featuring a post discussing behind the scenes of Jennifer Bosworth's debut novel Struck. This book has been on my radar for quite some time and the detail that went into the trailer is like a Hollywood film. Mind blowing. So here is Jennifer telling us all about the making of the trailer.
I'm writing this on the day my husband, Ryan Bosworth, the director half of our writer/director team, is putting the finishing touches on the STRUCK trailer. Outside, rain is pouring down like it's trying to make up for neglecting Los Angeles 360 days of the year. Suddenly the windows light up, and a moment later a crack like an explosion rattles my house and my dog starts acting like we're under attack. Even though it's raining, it takes me a moment to realise what this sound and this bright light are. Thunder and lightning? In Los Angeles? These things are almost unheard of here. It hardly ever rains in L.A., and lightning only strikes a handful of times every year.
But today, at almost the exact moment Ryan finished the trailer, we got the whole package. Rain, lightning, and thunder. It seems too perfect. But, then, a lot of things about the making of this trailer seemed to come together too perfectly, so maybe it was meant to be.
From the moment STRUCK got it's first offer for publication, Ryan and I both knew we were going to make a book trailer to help promote the book. The trailer isn't the first project we've produced together. I've written a number of short films for Ryan, two of which we produced, and which went on to play at film festivals. And Ryan, whose background is commercial and music video, was itching for a chance to create something with a big budget, blockbuster, cinematic feel.
We started work on producing the trailer a couple of weeks before shooting near the end of November 2011. First we had to decide which shots from the book we could actually pull off, and which would communicate the most story in the fewest number of frames. A trailer is, essentially, a commercial, and the cardinal rule of commercials is "don't be boring." So we chose the most exciting shots. And then we decided, "Hey, while we have these locations, let's shoot an entire scene from the book." I ended up adapting a scene––which will be available for viewing on my website––and using lines of dialogue from that scene to help shape the trailer script.
One of my favourite parts of the production process was casting, though there were a few points when we weren't sure we were going to find the right actors. It was important to us that we find actors who were not just pretty faces, but who could actually act. It was touch and go there for a while, but by the end of our first casting day we had found four of our five principles.
But casting our lead character, Mia Price, was harder. We had to hold two casting sessions to find her, but once she walked through the door, we knew within seconds that we had her. She looked the part, but more importantly she had insane acting chops, and she embodied both the character's strength and her vulnerability. I could easily picture this actress, Stephanie Rae Anderson, becoming the next Claire Danes or Jennifer Lawrence.
On to the actual filming. We shot for three days on the Red camera, in three separate locations. The first day we shot at my house, where we turned one room into a teenage girl's bedroom, another into her mother's bedroom, and then we transformed the inside of our garage––yep, our garage––into a dance club. It's amazing what you can do with a fog machine and some disco lights. When you watch the footage, you have no idea the scene is being filmed in the same place where my husband and I keep all our junk. This part of the shoot was probably the most fun. We had a bunch of teenagers and extras packed inside the garage, fog machines running constantly, dub step pounding, and our first AD calling for everyone to keep dancing, keep dancing! I'll admit, I was in there dancing, too.
Day two's filming location was Los Angeles City College, where we shot our most, um, dangerous scene. Last year, my husband Ryan directed the Project Runway 9 promos, and in them Heidi Klum holds an enormous pair of scissors––seriously, they're the biggest scissors you've ever seen––which Ryan was able to take home with him after the shoot. We used these GIGANTIC scissors in a scene in which one of the fanatical cult members threatens her nemesis. The entire crew was on edge, fearing for our actress, having these steel blades that were practically a foot long right up in her face. I get anxious just thinking about it. Luckily no one lost an eye.
Day three was the green screen shoot, where we filmed all of the shots that would be used for visual effects––and there are A LOT of them in this trailer––as well as our "revival" scene. In STRUCK, a fanatical cult leader named Prophet holds midnight revivals in a huge white tent on the beach. All of his Followers dress in head-to-toe white. So, in order to shoot this scene, we needed quite a few extras. I rounded up my friends––many of them authors, agents, and writers themselves––to be my Followers. Wardrobe dressed everyone in these strange, white ponchos, so they look like a huge choir. I have to say, it was both hilarious and kind of spooky.
And what's even spookier . . . on that day, our final shoot day in Los Angeles, where it hardly ever rains . . . it poured.
I can't wait to see the trailer!
To find out more about Jennifer Bosworth:
Website:
http://jenniferbosworth.com/
Twitter: @JennBosworth
Facebook: http://www.facebook.com/profile.php?id=521103525