Welcome to Twitter Picks – a brand new feature on Serendipity Reviews for 2015!
I used to love taking part in a feature called Friday Finds on the blog,
Should Be Reading
. However I realised most of the books I find these days don't tend to be through blog hopping; I usually find them now through Twitter. So I thought this would be a good way of sharing them with you. So every so often I will be sharing my book finds and where I found them in this new feature Twitter Picks. Please feel free to post your own finds and use the button if you would like to join in. You know what, I might even make it a weekly feature.
Let's get started. Here are my Twitter Picks from this week.
Seal Island by Julia Green – found via @WondrousReads
Published by Oxford University Press Published in July 2014
Jenny at Wondrous Reads always has such good taste in books and this one for children really caught my eye.
Grace is excited about her holiday, staying with Granny at her house in the Hebrides. She makes friends with local boy Col, and together they go exploring all over the Island. One day, Grace discovers a baby seal injured on the beach. She's not sure if she can save it, but she's determined to try.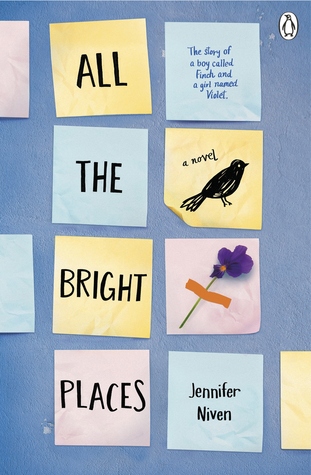 All The Bright Places by Jennifer Niven found via @fionanoblebooks
Published January 2015 by Penguin
Described as The Fault in our Stars meets Eleanor and Park!
Theodore Finch is fascinated by death, and he constantly thinks of ways he might kill himself. But each time, something good, no matter how small, stops him.
Violet Markey lives for the future, counting the days until graduation, when she can escape her Indiana town and her aching grief in the wake of her sister's recent death.
When Finch and Violet meet on the ledge of the bell tower at school, it's unclear who saves whom. And when they pair up on a project to discover the 'natural wonders' of their state, both Finch and Violet make more important discoveries: It's only with Violet that Finch can be himself - a weird, funny, live-out-loud guy who's not such a freak after all. And it's only with Finch that Violet can forget to count away the days and start living them. But as Violet's world grows, Finch's begins to shrink.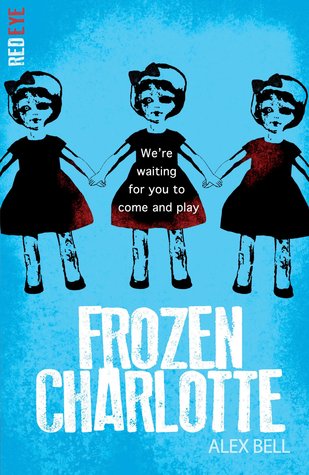 Frozen Charlotte by Alex Bell – found via @EnchantedBooks & @cloverness
Thanks to these two bloggers I discovered that Stripes are bringing out a new YA Horror series going under the name Red Eye. This was one of the books listed.
Published by Stripes in January 2015
We're waiting for you to come and play. Dunvegan School for Girls has been closed for many years. Converted into a family home, the teachers and students are long gone. But they left something behind...Sophie arrives at the old schoolhouse to spend the summer with her cousins. Brooding Cameron with his scarred hand, strange Lilias with a fear of bones and Piper, who seems just a bit too good to be true. And then there's her other cousin. The girl with a room full of antique dolls. The girl that shouldn't be there. The girl that died.
Crow Moon by Anna McKerrow – found via @Rhian_Ivory
Published by Quercus Kids in March 2015
At the moment, there is no cover to show or blurb to reveal. All I know is this the first part of a trilogy and is about witches. It contains a lot of authentic pagan and tarot knowledge, showing that the author really knows her stuff. I can't wait to read it!