Friday Finds is hosted by MizB at You Should Be Reading and you can find it here. MizB does a fantastic job with this meme every week, so do pop over and pay her a visit.
I haven't written a Friday Finds in months, so I knew I just had to write one for this month. You will have to excuse the change in format for this post, as Blogger have updated their editor and I am struggling to work out how to use it.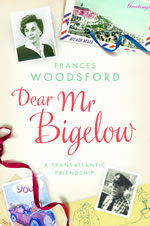 1) Dear Mr Bigelow by Frances Woodsford
I found this one in Sussex Stationers before I went on holiday and never got around to purchasing it. If you loved 84 Charing Cross Road and The Geurnsey Literary and Potato Peel Pie Society then you will love this.
Here is the blurb from Amazon.
Dear Mr Bigelow is an enchanting selection of weekly 'pen-pal' letters written between 1949 and 1961 from an unmarried woman working at the Pier Approach Baths in Bournemouth, to a wealthy American widower, living on Long Island, New York. Frances Woodsford and Commodore Paul Bigelow never met, and there was no romance – she was in her forties when he died aged ninety-seven – yet their epistolary friendship was her lifeline. The 'Saturday Specials' as Frances dubbed them, are brilliantly-packed missives, sparked with comic genius, from post-war England. We follow her travails at the Baths (and her ghastly boss Mr Bond); the hilarious weekly Civil Defence classes as the Cold War advances; her attempts to shake off Dr Russell, an unwanted suitor; life at home with Mother, and Mac, her charming ne'er-do-well brother; and escapades in their jointly-owned car, a 1934 Ford 8 called Hesperus. Most importantly, we get to know Frances – and her deep affection for Mr Bigelow. She started to write to him as a way of thanking his daughter for the clothes and food parcels she sent. But what had begun as a good turn offered Frances the chance to escape a trying job, and to expound with elegance, wit and verve on topical subjects from home and abroad, bringing us a beady commentary on her life and times that leaps vividly from the page. Her letters to Mr Bigelow during his final illness are a tender and moving farewell, a touching conclusion to a unique record.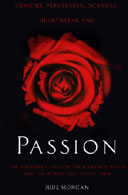 2) Passion by Jude Morgan
I am not sure where I found this book, so if you reviewed it please let me know.
Here is the blurb from Amazon.
The attempted suicide of Mary Wollstonecraft opens this carefully researched, deeply imagined and gorgeously written novel about the Romantic poets, as seen by the women who loved them: Mary Wollstonecraft's daughter, Mary Shelley, who fell scandalously in love with then-married Percy Bysshe Shelley and wrote Frankenstein at age 19; the passionate but untethered Lady Caroline Lamb, who never got over her love for Lord Byron; charming Fanny Brawne, devoted to her consumptive fiancé, Keats; and Augusta Leigh, half-sister to Byron, notorious for her incestuous affair with him. Dense, empathetic, detailed portraits of each woman lift them above their iconography; even Byron, in all his famous charm, is convincingly rendered. The poets, of course, are doomed—Byron, fighting in the Greek war of independence, dies of fever; Shelley perishes in a boating accident; and Keats succumbs to consumption. Morgan concludes with a series of carefully crafted plateaus that evocatively capture the women in varied states of acceptance, ambivalence and longing after their losses.
3) Halo by Alexandra Adornetto
Here is the blurb from Wikipedia
Nothing much happens in the sleepy town of Venus Cove. But everything changes when three angels are sent from heaven to protect the town against the gathering forces of darkness: Gabriel, the warrior; Ivy, the healer; and Bethany, a teenage girl who is the least experienced of the trio. They work hard to conceal their true identity and, most of all, their wings. But the mission is threatened when the youngest angel, Bethany, is sent to high school and falls in love with the handsome school captain, Xavier Woods. Will she defy the laws of Heaven by loving him? Things come to a head when the angels realize they are not the only supernatural power in Venus Cove. There′s a new kid in town and he′s charming, seductive and deadly. Worst of all, he′s after Beth
4) Banish by Gretchen McNeil
I found this one over at Ladybug's site too. Here is the blurb from her post.
Fifteen-year-old Bridget Liu just wants to be left alone: by her overprotective mom, by the hunky son of the police officer who got her father killed, and by the eerie voices which she can suddenly and inexplicably hear. Turns out the voices are demons - the Biblical kind, not the Buffy kind - and Bridget possesses the rare ability to banish them.
San Francisco's senior exorcist and his newly assigned partner from the Vatican enlist Bridget's help with increasingly bizarre and dangerous cases of demonic possession. But when one of Bridget's oldest friends turns up dead in a ritualistic sacrifice that mirrors her father's murder, Bridget realizes she can't trust anyone. An interview with her father's murderer reveals a link between Bridget and the Emim: a race of part-demons intent on raising their forefathers to the earth in human form. Now Bridget must unlock the secret to the Emim's plan before someone else close to her winds up dead, or worse - the human vessel for a Demon King.
Is it too early to put these books on my Christmas list. Hmmm!