I am really happy to have Diane Messidoro on the blog today discussing where she set the scenes for her book, How To Keep A Boy As A Pet, which comes out this month with Electric Monkey, an imprint of Egmont.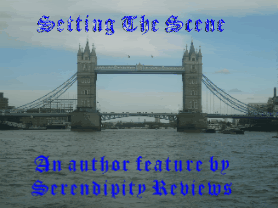 First, thanks so much for inviting me to post here on Serendipity Reviews, Vivienne. And what a beautifully illustrated blog – a lovely setting in which to write about settings, in fact.
It's really interesting talking about setting the scene for my first book, How to Keep a Boy as a Pet, as I honestly don't feel like I had much to do with it at all!
From the moment I sat down to write, it was as if I was walking in my heroine Circe Shaw's shoes as she showed me around her world and introduced me to her life.
In fact, before I'd even thought much about the plot at all, the very first line I typed, the title of Circe's first post (the book's written as a blog) told me exactly where she was…
Totally not weeping under a willow
Circe explained that she wanted to become a journalist; that she needed an office, and that the willow also doubled-up as a good hiding place, which she needed because… No, I won't tell you that, I don't want to spoil the story!
She went on to reveal that she'd been uprooted from her old life in London to live in 'The Middle Of Absolute Nowhere' which was, 'all hills…
… and trees…'
… and nothing to do.'
(Except watch grass grow!)
Which, thinking about it now, isn't perhaps the most promising location for the action-packed, emotionally-charged, romantic adventure I was hoping to write!
But Circe had such a strong voice that didn't even occur to me at the time: I had no choice but to follow her; to see where she'd take me. With every line I wrote, I grew to understand her more, to appreciate her problems, wonder about the mysteries in her past. And I became more and more excited – and the setting became even more vivid.
I learnt Circe lived in a 'tiny excuse' for a cottage called, 'The Nook'. It wasn't somewhere I'd ever lived – but I recognised the wild, overgrown garden and little paved terrace from somewhere, although I couldn't place where. I also knew the leafy lane curving past it, and the view from it – of rolling meadows dotted with ponies, cows and sheep – from the gorgeous, isolated location of the riding stables where I spent holidays as a teenager.
There were stables in Circe's world too, but I'd never seen them before in real life and wandering around them with her felt a little like magic, or a dream.
And, as Circe's story unfolded and she set off on a mission to reveal, 'The Official Truth about dating the male human species', her new home started to evolve and look very different. She soon found out…
You don't just find trees in the woods – you can find out some fascinating facts about the strange way boys' minds work!
The most passionate, dramatic things can happen on a stroll down a deserted, leafy lane.
And, that somewhere like this can be the most wonderful, romantic place on earth…
In short, Circe (and I) learnt that although setting's important in a book, the real story's not so much about where you are, it's about who you're with – especially if you happen to be with a very special kind of pet boy…
Thanks Diane for a lovely post.
If you want to be in with a chance of winning a copy of the book as well as a Tshirt, the pop over to Electric Monkey to enter. The link is here.
To find out more about Diane Messidoro: