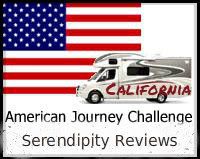 I can't believe California Week is nearly over! The time has just flown by! This is the last post with a summary of all the excellent posts that I have featured this week. A huge thanks go to Keris Stainton, Michelle Bouse, Krystal from Bookshelf Banter and Britta Pichler for some amazing insights into life and trekking in California.
Book Reviews:
Emma Hearts LA by Keris Stainton
Evermore by Alyson Noel
LA Candy by Lauren Conrad
Guest Posts:
The Low Down On Los Angeles by Britta Pichler
Setting The Scene by Keris Stainton
What It's Really Like To Live In California by Krystal from Bookshelf Banter
The Life and Times of an Executive Produce and a Hollywood Make Up Artist by Michelle Bouse
Other Posts:
Films set in California
Fantasy Dinner Party with Famous Californians
10 Interesting Facts About California
TV Programmes set in California
Thank you everyone for stopping by. Look out for another instalment of my American Journey in the near future.