There are so many authors out there I really love that I felt it was about time I showcased some of the books they have written as well as explaining why I love them so. I haven't read all of the books by the authors I love so I thought it would be nice to give you an insight into the books they have written.
First up this week is Michelle Harrison.
Bio: A former bookseller for Waterstones and Ottakers in Stafford, Michelle moved into publishing to become an editorial assistant for Oxford University Press. In January 2009, her, first book in the Thirteen trilogy was published. The Thirteen Treasures which went on to win the Waterstones Children's Book Prize and has now sold to fourteen other countries. This was followed The Thirteen Curses and The Thirteen Secrets. This year saw the publication of Michelle's first standalone novel, Unrest.
Why I love Michelle's books: Michelle was one of the first authors I found to offer elements of the fantasy world set within the UK. I was instantly drawn into the world that Michelle had created as I stepped into Elvesdon Manor. The fairies were dark and nasty at times, providing a darker fae world than normally be found in the books aimed at 9 to 12 years.
When Michelle writes for children, she brings back the essence of Enid Blyton and magically weaves it into a modern world. Each book is gripping from the first page to the last. Michelle's books also have a real English feel to them; you can actually imagine them occurring in a village near you.
Earlier this year I got to read Michelle Harrison's first YA book and I found it just as enthralling as her children's books. Unrest is an atmospheric ghost story that will make your spine tingle. It was a realistic, gritty read and I can't wait to see what Michelle will write next. I have heard rumours there may be a witch book brewing.
Books I have read by this author: The Thirteen Treasures, The Thirteen Curses and Unrest.
Still to read: The Thirteen Secrets - the final part in The Thirteen Treasures series.
As part of this new feature I wanted to showcase the books written by the chosen author. I have attached the Goodreads summary too, in order to whet your appetite. I have also added a link to the title which will take you to my reviews of the books mentioned that I have read.
While visiting her grandmother's house, an old photograph leads Tanya to an unsolved mystery. Fifty years ago a girl vanished in the woods nearby - a girl Tanya's grandmother will not speak of. Fabian, the caretaker's son, is tormented by the girl's disappearance. His grandfather was the last person to see her alive, and has lived under suspicion ever since. Together, Tanya and Fabian decide to find the truth. But Tanya has her own secret: the ability to see fairies. And, after disturbing an intruder in the night, it emerges that someone else shares her ability ...The manor's sinister history is about to repeat itself ...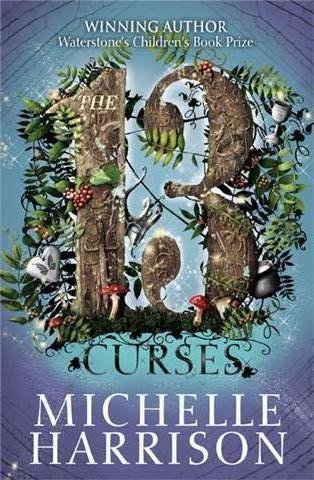 The Thirteen Treasures have become the Thirteen Curses. When fairies stole her brother, Red vowed to get him back. Now trapped in the fairy realm, she begs an audience with the fairy court where she strikes a bargain. Her brother will be returned - but only if she can find the thirteen charms of Tanya's bracelet that have been scattered in the human world. Returning to Elvesden Manor, Red is assisted by Tanya and Fabian and a desperate hunt begins. Soon they make a shocking discovery. The charms now have twisted qualities of the thirteen treasures they represent...and the longer they are missing the worse the consequences will be. Can Red, Tanya and Fabian find all the charms? And even if they do, will the fairies keep their promise?
Red is now living at Elvesden Manor under her real name, Rowan, and trying to put her past behind her. But staying on the straight and narrow isn't as easy as she had hoped...Hounded by fairy messengers who are trying to convince her to participate once more in the changeling trade, Rowan is haunted by dreams of the Hedgewitch's cottage and the chained-up Eldritch, who threatens revenge against her. Her past is about to catch up with her - can Tanya and Fabian prevent it consuming her altogether?
Seventeen-year-old Elliott hasn't slept properly for six months. Not since the accident that nearly killed him. Now he is afraid to go to sleep. Sometimes he wakes to find himself paralysed, unable to move a muscle, while shadowy figures move around him. Other times he is the one moving around, while his body lies asleep on the bed. According to his doctor, sleep paralysis and out of body experiences are harmless - but to Elliot they're terrifying. Convinced that his brush with death has opened up connections with the spirit world, Elliott secures a live-in job at one of England's most haunted locations, determined to find out the truth. There he finds Sebastian, the ghost of a long-dead servant boy hanged for stealing bread. He also meets the living, breathing Ophelia, a girl with secrets of her own. She and Elliott grow closer, but things take a terrifying turn when Elliott discovers Sebastian is occupying his body when he leaves it. And the more time Sebastian spends inhabiting a living body, the more resistant he becomes to giving it back. Worse, he seems to have an unhealthy interest in Ophelia. Unless Elliott can lay Sebastian's spirit to rest, he risks being possessed by him for ever, and losing the girl of his dreams...
To find out more about Michelle Harrison:
Twitter: @MHarrison13