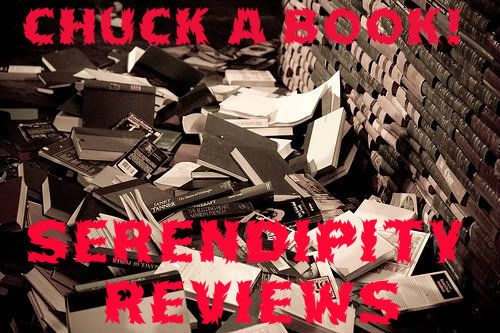 Today on Chuck a Book, I would like to welcome Debra from Debra's Book Cafe. The pictures of the books chosen by Debra are linked straight back to their summaries on Goodreads, in case you want to find out more about them.
1) The best book you have ever read.
The best book I have ever read has to be The Wedding by Nicholas Sparks (very quickly followed by the rest of the books by Nicholas Sparks). The Wedding was and is one of those books that makes me just exhale slowly when finishing the last page as I had not been realising that I had been holding my breath not wanting to break the reading... The character and story build up was the best part of this book for me...
2) A book you loved from your childhood.
In my teens, I absolutely loved the Babysitter Club series by Ann M Martin. I never managed to read all of them because there are so many but loved the interactions between the Babysitters.
3) A book that made you laugh.
Recently, that one has to be What I did on my holidays by Chrissie Manby. In this book you have a character who has broken up with her boyfriend just before she had planned to go on holiday with him. Everyone knows that she has split up with her boyfriend and so she decides to say that she is going on the holiday without him but really she doesn't and decides to hideaway in her flat. Watching her story unfold and see her try to keep her secret, is so funny.
4) A book you could not finish.
There are not a lot of books that I can't finish. I usually don't like to leave a book unfinished and will have to go back to it a few times before I admit defeat. One of those is Chime by Franny Billingsley. I loved the read up of the back and thought this was an interesting idea for a story but this was one that I just could not get into and found it very slow to get into.
5) A book that made you swoon.
There are many many books that I could put into this catagory, including Twilight and any of the Nicholas Sparks novels...
6) A book you can't wait to read.
Oh dear, I fear that if I list all the ones I can't wait to read this might turn into a novel lol! To name a couple those would have to be the rest of the Pretty Little Liars series to date after Wanted.. There are a few out that I haven't picked up yet and really cannot wait to read those. I love the TV show.
7) A series you have read and loved.
My favourite YA series so far has to be Wicked Lovely by Melissa Marr. I loved the character build up and story progression in this series but the one thing that I loved the most was when you moved from book 1 to book 2 and so on, the viewpoint changes but the storyline still goes on. You are just looking at it from a different perspective! Love it!
8) A book that made you cry.
This one has to be Radiate by Marley Gibson. When I picked up this book I looked at the cover and saw a cheerleader and a yellow background and I thought this was going to be a nice easy type of read. I was so many degrees of wrong.... This follows the story of Hayley who has always dreamed of becoming a cheerleader but when she discovers she has cancer and could lose her leg, she has to fight for both her life and her right to be a cheerleader again... AMAZING read!!!
9) Your guilty pleasure book.
I would have to say that my guilty pleasure in reading is a genre and not a particular book... I love reading biographies but not just popular artists etc but everything... I am completely addicted to reading about people's lives...
10) A book that took you out of your comfort zone.
This has to be Girl with the Pearl Earring by Tracy Chevalier. I usually tend to stick to YA/Romance/Chicklit style books but I am always open to trying new books and new genres. This is a historic fiction and I really enjoyed it. It did take me a little while to get into the feel of the history of the book but once I did, I loved it!
Thank you Debra for a fabulous list. I have definitely added to my TBR list since reading this post.
If you would like to take part in Chuck A Book then please email me at vivienne_dacosta@hotmail.com