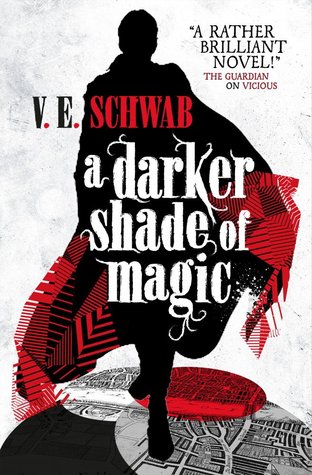 Kell wore a peculiar coat.
It had neither one side, which would be conventional, nor two, which would be unexpected, but several, which was, of course, impossible.
Published by Tor Books in February 2015
Pages – 400
Summary
Kell is one of the last Travelers—rare magicians who choose a parallel universe to visit.
Grey London is dirty, boring, lacks magic, ruled by mad King George. Red London is where life and magic are revered, and the Maresh Dynasty presides over a flourishing empire. White London is ruled by whoever has murdered their way to the throne. People fight to control magic, and the magic fights back, draining the city to its very bones. Once there was Black London - but no one speaks of that now.
Officially, Kell is the Red Traveler, personal ambassador and adopted Prince of Red London, carrying the monthly correspondences between royals of each London. Unofficially, Kell smuggles for those willing to pay for even a glimpse of a world they'll never see. This dangerous hobby sets him up for accidental treason. Fleeing into Grey London, Kell runs afoul of Delilah Bard, a cut-purse with lofty aspirations. She robs him, saves him from a dangerous enemy, then forces him to another world for her 'proper adventure'.
But perilous magic is afoot, and treachery lurks at every turn. To save all of the worlds, Kell and Lila will first need to stay alive — trickier than they hoped.
****
To create an alternate version of London is clever, to create four very different versions is simply genius. V.E. Schwab has obviously spent many hours world building for this book, because each London stood out from it's counterpart and felt like a character in it's own right. I'm in awe of the author's talents. I found myself completely absorbed by these very different lands and could easily see the transition as Kell stepped from one to another. The London had a real feel of Victorian times, which I enjoyed.
I loved Lila! She really stood out for me. She has the kick ass persona of Celaena from Throne of Glass, yet the deeply hidden affection of Katniss from The Hunger Games. I think Lila has a lot of secrets hidden within her, that even she doesn't truly know about, but as a reader the snippets about her past leave you guessing. I didn't warm to Rhys, as I'm convinced he will turn out to not be as loyal to Kell as he is in return. I'm sure there are elements of evil and jealousy hidden within Rhys. I'm really looking forward to seeing how the relationship between Kell, Rhys and Lila develops. There's definitely a love triangle coming in the next book, I am positive.
The plot was brilliant. The author took us through so many twists and turns that it left me unable to put the book down. I needed to know what would happen next. This book weaves cross dressing, LGBT issues with fantasy and epic adventures. I was lucky enough to read Victoria Schwab's first book, The Near Witch, a few years ago, which I really enjoyed. With A Darker Shade of Magic, it is clear how far the author has come with her writing. The paragraphs are brimming with descriptions and emotion, touching every sense and feeling.
An epic adventure, beautifully written, flawless through out. This book is way too good to wait for. Buy it!