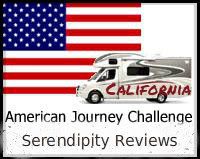 When I began advertising my blog week in California I was overwhelmed by the support from Californian bloggers who were more than happy to write guest posts to help us get the real feel of the place. The lovely Britta stepped forward to give us the low down on Los Angeles, so we know where the best places are to visit. Many of the places listed are linked to detailed websites, so please do check out the links.
Britta Pichler is originally from LA but currently living in Vienna, Austria. She's an expat, world traveler, and writer. Check out her blog at
http://op-expat.com/
and follow her on twitter @BMPichler
What to Do
(Santa Monica beach)
Number one tourist destination is
Disneyland
. It's fun for big and small kids alike. Just skip the California Adventures Park as it is a rip-off of real California sights.
Where To Shop
(Melrose Avenue)
Los Angeles is one of the biggest fashion capitals of the world. Rodeo Drive is fun to window shop, but to buy something, get out of there and head to these fun places.
Where to Stay
(Ocean View Hotel)
Manhattan Beach is a chic beach neighborhood that has an awesome location in the L.A. area. It's near Los Angeles International Airport, an amazing stretch of beach, and the freeway to get to where you're going. A great hotel is
Aryes Hotel Manhattan Beach
.
Santa Monica is one the cutest neighborhoods in the L.A. area.
Ocean View Hotel
is moderately priced and has an excellent location.
If you don't like these hotel suggestions, just look in these neighborhoods to find something that suits you.


Where to Eat
(The Ivy)
When to Go
Los Angeles enjoys good weather year round. It's not when to go that should be asked, but when not to go. The worst time is August as it is the hottest time of the year and the city smog is at its worst.
Extra Info
A rental car is a must in Los Angeles as there is no real public transportation. Pay up for the extra car insurance as people in L.A. cannot drive properly for some mysterious reason. Also, because some neighborhoods are truly dangerous, get a navigation system with your rental to make sure you don't accidently find yourself in the wrong part of town.
Thank you Britta! What an amazing post! I will make sure I visit each and everyone of these places while I am in California!